Bill Waggoner
Bill Waggoner Remembered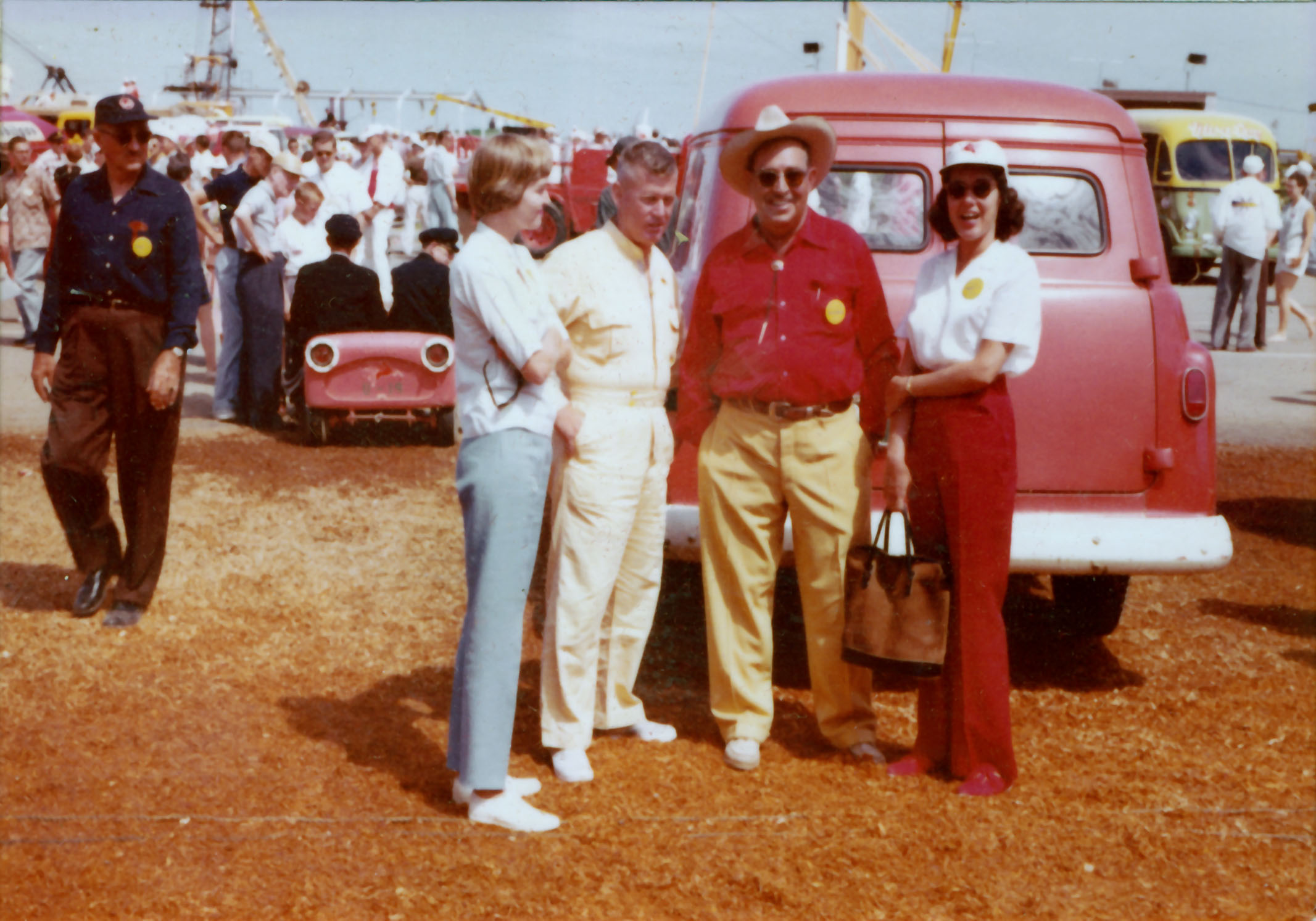 William T. ("Bill") Waggoner, Jr. arrived on the Unlimited hydroplane scene in 1955 when he witnessed the APBA Gold Cup Regatta on Seattle's Lake Washington. From his vantage point on the spectator log boom, Waggoner, a Texas oil millionaire, knew that he had to get one of those spectacular boats for himself. Within a year, he had his own team.
From 1956 to 1959, Bill Waggoner was a formidable presence in the Unlimited sport, winning twelve races and two National Championships with his various Maverick and Shanty hydroplanes. He was always competitive in the 31 races that he entered. Waggoner never participated in a race that he didn't arguably have a shot at winning.
Waggoner was one of those larger-than-life characters with his trademark cowboy hat and those pearl-handled fake six-guns strapped around his considerable girth.
As a man used to having "the best", he hired the best designer/team manager in the sport at the time--Ted Jones, who had transformed the Unlimited Class in 1950 with the trend setting Slo-mo-shun IV. The Waggoner/Jones collaboration was a happy one. Ted treasured the memory of his association with Bill Waggoner. Moreover, Jones regarded the 1956 vintage Shanty I as his all-time personal favorite race boat.
Waggoner was a keen judge of a person's potential. Both of his drivers--Russ Schleeh and Bill Stead--had very little experience at the Unlimited level when he hired them to pilot Shanty I and Maverick in 1956. Schleeh had only competed in one previous race (with Rebel, Suh), which he had failed to finish; Stead had only driven in three races (with Hurricane IV).
But this was at a time when aviators were prominent in the sport. And both Schleeh and Stead had considerable experience in that area. Schleeh, in fact, had test-flown the Boeing XB-47 jet bomber for the U.S. Air Force.
Designed by Jones and built by Les Staudacher, Shanty I was named after Waggoner's wife Mary Beth whose nickname was Shanty. The hull was completed in April of 1956 at Staudacher's plant in Bay City, Michigan. At about this same time, Jones sold Waggoner his one-year-old Rebel, Suh hydroplane, which became the first Maverick.
Shanty I (U-29) was National High Point Champion in 1956 and won her first three races in a row with USAF Lieutenant Colonel Russ Schleeh at the wheel. These were the Lake Tahoe Mapes Trophy, the Seattle Seafair Regatta, and the Harmsworth International Trophy. Powered by a supercharged Allison engine, Shanty I established a world record for a 3.75-mile competition lap at 115.979 miles per hour on Lake Washington.
Shanty I's victories at Lake Tahoe and in the Harmsworth at Detroit were admittedly won against mediocre opposition. But her Seattle Seafair triumph was one for the ages. Driver Schleeh raised the lap record by 9 miles per hour and the heat and race records by 6 miles per hour. Shanty I also brought the long-dominant Slo-mo-shun IV down to earth at Seattle by decisively beating her in the Final Heat.
Schleeh and Shanty I had a clear lead in the Final Heat of the season-concluding Sahara Cup on Lake Mead and probably would have won that race as well if a supercharger hadn't failed and caused the boat to go dead in the water.
Subsequent to the 1956 racing season, Shanty I and the "Flying Colonel" made an attempt on Lake Washington's East Channel to break the world mile straightaway record of 178.497, set by Slo-mo-shun IV in 1952, but came up short with a clocking of 173.910.
Shanty I had difficulty handling rough water in 1956--especially at the Presidents Cup in Washington, D.C., where she failed to make the cut for the Final Heat. In order to correct this problem, she was extensively rebuilt for the 1957 season. Component parts were re-located. This proved to be Shanty I's undoing. The balance was wrong. From then on, the boat was a shell of its former self.
Shanty I was no match for the likes of Jack Regas in Hawaii Kai III, Bill Muncey in Miss Thriftway, or Mira Slovak in Miss Wahoo, which happened to be a hull duplicate of Shanty I.
At the 1957 Seattle Gold Cup, driver Schleeh reported he had power that he couldn't use because the boat was so erratic. A month later, Shanty I crashed during a test run on the Potomac River at Washington, D.C., and Russ Schleeh almost drowned. (Earlier in the season, the Colonel had been pitched out of the boat at the Lake Chelan Apple Cup.)
Following the destruction of Shanty I, Waggoner announced plans for a replacement Shanty II. This time, however, he decided to experiment with a radical hull configuration--a boat without sponsons with a ski or "step" on the underside.
Of the four hydroplanes owned by Bill Waggoner, Shanty II was his only failure and was never brought to a race. Waggoner reportedly invested a quarter of a million dollars in the project. The designer, Ernest Stout, an aeronautical engineer, had never even seen an Unlimited run. According to Schleeh, Shanty II rode very erratically in tests and could only do about 90 miles per hour on the straightaway with an Allison engine.
Maverick (U-12) showed potential in 1956 with Nevada cattle rancher Bill Stead driving but was largely overshadowed by its teammate Shanty I. Stead surprised everyone when he piloted Maverick to a victory in the 1957 season-opening Apple Cup. But this win was largely by default, inasmuch as both Hawaii Kai III and Miss Thriftway ran faster but were unable to finish the 90 miles.
The Apple Cup unfortunately was the only highlight for the Waggoner camp in 1957. This was clearly their worst season. Shanty I and Maverick finished second and third respectively to Miss Thriftway at the Gold Cup. And Maverick turned the fastest heat of the Silver Cup. But that was about it.
Not to worry, things were about to take a huge turn for the better in 1958. Maverick came alive and won three races against one of the more formidable fields in Unlimited history. Stead and the U-12 won the Diamond Cup at Coeur d'Alene, Idaho, the Mapes Trophy at Lake Tahoe, and the Silver Cup at Detroit. The field included Muncey in Miss Thriftway, Slovak in Miss Bardahl, Fred Alter in Miss U.S. I, Bill Cantrell in Gale V, Lee Schoenith in Gale VI, Bob Schroeder in Wildroot Charlie, and Bob Hayward in Miss Supertest II.
The Waggoner team's one major disappointment in 1958 was their defeat at the Gold Cup on Lake Washington. They were trounced in that memorable donnybrook by Jack Regas in the "Pink Lady" Hawaii Kai III, which came out of retirement to "save" the race for Seattle. This was in the days when the Gold Cup race location was determined by the yacht club of the winning boat rather than by the present-day practice of awarding the race to the city with the highest financial bid.
Shanty I and Maverick had affiliated with the Seattle Yacht Club in 1956 and 1957 (even though the owner resided in Vernon, Texas). But after a dispute with the SYC over possession and display of the Harmsworth Trophy, Waggoner transferred to the Lake Mead Yacht Club of Las Vegas, Nevada, for 1958 and 1959. After having been regarded as a local favorite for the first few years by Seattle fans, Maverick was now in the enemy camp.
Hawaii Kai III won Heats One and Two of the 1958 Gold Cup hands down. Stead went all out but was soundly beaten both times by the irrepressible Regas. Maverick missed the Final Heat entirely when her crew couldn't replace a spline shaft in the aux-stage Allison engine in time. But even in defeat, Stead and Waggoner had the satisfaction of setting a Gold Cup qualifying record of 119.956 miles per hour for the 3-lap/9-mile distance.
Later in the season, Maverick staged a sensational duel in the Final Heat of the Silver Cup with the Bill Cantrell-chauffeured Gale V. For ten dynamic heart-stopping laps, Stead and Cantrell fought it out with neither driver holding an advantage. Maverick eventually won but only after a titanic struggle. It was quite simply some of the finest competition ever witnessed. If one were to place a video in a time capsule to illustrate 1950s Unlimited racing at its best, the 1958 Silver Cup Final Heat would be an eloquent testimonial.
In 1959, a new Maverick (U-00) replaced the veteran U-12, the latter having caught fire and burned to the waterline in a pre-season test on Lake Mead. The U-00 was one of two boats (together with a new Miss Thriftway) to be designed and built by Ted Jones that year. Both were extremely fast but experienced handling problems during that first season. Maverick driver Bill Stead indicated that he would have preferred the steady U-12 to the erratic U-00, which spun out six times during the 1959 season.
The aux-stage Allison engine used in the Maverick boats was an awesome piece of machinery, as developed by crew chief Ricky Iglesias and his helpers. So advanced was this hybrid of World War II air battles, it was quite literally the equivalent of a Rolls-Royce Merlin, according to Ron Jones, Sr. This explains why Maverick (U-00) was able to hold its own as well as it did against the Merlin-powered boats in 1959.
In race after race, Maverick would not be denied. Her "miracle" aux-stage Allison nailed the Rolls-Royce Merlin opposition flat en route to owner Waggoner's second National Championship in four years.
There were some rough spots. The Potomac River once again proved to be a jinx race course for the Waggoner team. Maverick flipped upside-down during Heat 1-A of the President's Cup. Stead fortunately escaped serious injury.
Maverick was chosen as the U.S. defender of the Harmsworth Trophy against the Canadian challenger Miss Supertest III. The competition was keen. But the Rolls-Royce Griffon-powered Supertest and driver Bob Hayward prevailed in the best two-out-of-three-heat contest at Detroit with Maverick failing to finish. Three years earlier, Waggoner's Shanty I had defeated Miss Supertest II and driver Bill Braden in the 1956 Harmsworth.
At the end of 1959, the Maverick/Waggoner/Stead combination had five wins in ten races entered. These included the Diamond Cup, the Gold Cup, the Silver Cup, the Buffalo Launch Club Regatta, and the Reno Regatta. They were a racing team at the top of their form.
Bill Waggoner unfortunately wasn't able to celebrate in person with his team. A series of physical ailments necessitated his being airlifted back to Texas during race week at Coeur d'Alene. He learned of Maverick's subsequent triumphs while confined to a hospital bed. Waggoners worsening health situation dictated his retirement from racing at the end of 1959, although he didn't die until 1962.
Maverick's 1959 Diamond Cup and Gold Cup victories merit special mention. In both races, Muncey and Miss Thriftway finished ahead of Stead and Maverick in the Final Heat and ended up in a tie in total points. Maverick was declared the winner both times on the basis of faster total elapsed time. The U-00 was 1.8 seconds faster in the Diamond Cup and 8.3 seconds faster in the Gold Cup. This was before the days when the winner of the Final Heat was automatically declared the winner of the race in an Unlimited event.
Maverick's 1959 Gold Cup triumph brought Seattle's Gold Cup victory streak to a halt and transferred the race to Lake Mead, Nevada, where the only "No Contest" result in Gold Cup history was recorded in 1960. But that's another story.
There are many Unlimited owners with longer career spans than Bill Waggoner. But few have accomplished what Waggoner accomplished in such a short period of time. He epitomized the last stand--a glorious one--of the amateur sportsman tradition when such famous names as Kaiser, Boeing, Dodge, and DuPont raced Unlimiteds. Those were the days when boats with nicknames were more popular than those with commercial titles. This was before rising costs and the scrutiny of the IRS demanded that the sport be run more as a business and less as a hobby.
The Waggoner legacy to racing lived on for many years after his death. At a time when most of the major teams were changing over to the Rolls-Royce Merlin, Waggoner's team proved that the Allison was still a viable power source in the Unlimited ranks.
Maverick (U-00) figured prominently in a number of racing dynasties. It became the first Tahoe Miss in 1962, the first Miss Budweiser in 1964, and the first Atlas Van Lines in 1967. Bernie Little so admired the Maverick's distinctive gold, red, and white color scheme, he used it on the Miss Budweiser for the next three decades.
Mary Beth ("Shanty") Waggoner (Bill's widow) was an honored guest at the 1973 Seattle Seafair Regatta. When she saw the Miss Budweiser decked out in Maverick colors, it brought tears to her eyes.