O.H. Frisbie
A Tribute to O.H. Frisbie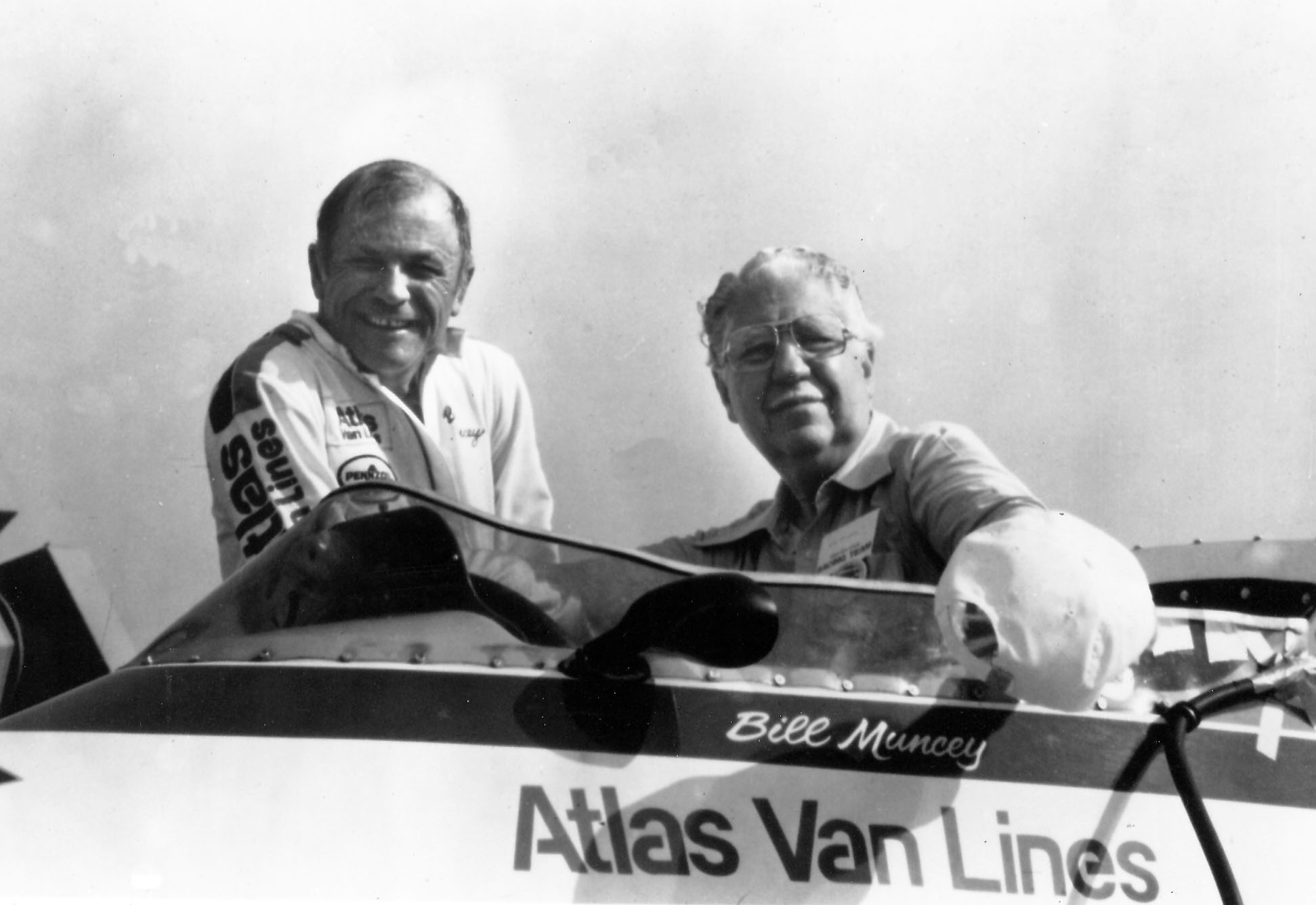 Shortly after the conclusion of the 1984 Unlimited hydroplane season, Atlas Van Lines, Inc., announced its retirement as a corporate sponsor of Unlimited racing. After 18 years, 11 boats, 47 race victories, and six National High Point titles, AVL was merging with another firm and changing promotional direction.
The guiding light behind the Atlas involvement in racing from the beginning was O.H. Frisbie. As AVL's Chairman of the Board, it was through Mr. Frisbie's enthusiasm and commitment to the sport that Atlas remained active for as long as it did. He was named Sportsman of the Year for 1981 and was the first sponsor to be named to the APBA Unlimited Racing Commission.
Frisbie had been a hydroplane fan since the Gar Wood era. After listening to a presentation by future URC Executive Secretary Phil Cole, he became convinced that an Unlimited hydro would be an effective publicity tool for his company.
His board of directors, however, took some convincing. His advertising and marketing people were dead set against sponsoring a race boat. But Frisbie eventually won them over. He proposed that the company make a small investment in Unlimited racing. AVL would pay half and he, Frisbie, would put up the other half out of his personal capital.
Atlas Van Lines initially lent its name to a Thunderboat on a small scale in 1967. The craft was the former Maverick and had seen its better days. Nevertheless, with Norman Manson the owner and Bob Schroeder the driver, the very first AVL boat did its sponsor proud, touring the entire circuit, taking fifth-place in the Gold Cup at Seattle, and placing ninth in a field of 23 boats in National High Points.
Pleased with all of the favorable ink from coast to coast, Atlas upped its ante and shifted to the Bob Fendler organization. The team went on to take a third at the 1968 San Diego Cup with Bob Miller driving and a second in the 1969 Seattle Seafair Regatta with Jim McCormick.
Frisbie and Atlas had high hopes for 1970 but were disappointed when an experimental twin-Chrysler automotive-powered rig built by Fred Wickens failed to make the competitive grade. But not to worryn as better times were just around the corner.
In 1971, Atlas Van Lines made racing history by signing the most victorious driver of all time, Bill Muncey, and inking a top-budget pact with Joe and Lee Schoenith's Gale Enterprises organization. Muncey also became a corporate Vice-President for AVL.
After five years in the sport, Atlas finally achieved the winner's circle on June 6, 1971, at the Washington, D.C., President's Cup on the Potomac River. Pilot Muncey outpointed McCormick in Miss Madison, Leif Borgersen in Hallmark Homes, Billy Schumacher in Pride of Pay 'n Pak, Dean Chenoweth in Miss Budweiser, and Billy Sterett, Jr., in Notre Dame on that memorable day. At long last, Atlas Van Lines was on its way.
The Frisbie/Muncey/Schoenith combination also took first-place honors at the 1971 Kentucky Governor's Cup in Owensboro. They ended up finishing fourth in National High Points, despite having sunk at Madison, Indiana, and being rammed by a rudderless Hallmark Homes at Seattle. But there would be no stopping the Atlas Van Lines the following year.
Nineteen-seventy-two was the kind of season most racers dream about but seldom, if ever, achieve. At seven competitive events, the Atlas team scored six victories, finished second once, and claimed the National High Point Championship handily. Atlas also tied down its first of seven APBA Gold Cups (at Detroit) and its first of three UIM World Championships (at Madison). The boat only broke one engine all year--and even then it was able to finish the heat in second-place!
But just when things were looking their brightest for Atlas in the wake of their stellar 1972 campaign, the team's level of performance took a disheartening downturn the following year.
A new Ron Jones-designed Pay 'n Pak entry came along and, in the twinkling of an eye, rendered the defending National Champion obsolete. A Jones-designed Miss Budweiser also gave the Atlas people a hard time in '73.
The Van Lines team bounced back in 1974 with an experimental turbocharged Allison engine set-up, hoping it would put them back on top. It didn't. Then, in '75, they came out with a new Jon Staudacher-crafted hull. But it too failed as a competitor.
It was at this juncture, after having lost 30 races in a row over a three-year period, that Gale Enterprises threw in the towel and withdrew from racing.
But just when things were looking their blackest in the bleak January of 1976, the Atlas people caught the world by surprise once again.
O.H. Frisbie indicated a willingness to continue his sponsorship--but only with a truly competitive package. And that's exactly what he got.
Bill Muncey became his own owner after a quarter century of driving for others, bought out the entire Pay 'n Pak racing team inventory from Dave Heerensperger, hired nonpareil crew chief/designer Jim Lucero, and negotiated a brand-new sponsorship contract with Atlas Van Lines, Inc.
From there, Muncey confounded the critics who considered him "all washed up" as a driver and sparked AVL to another golden age, winning 29 races and three more High Point titles.
Not even Bill's death at the World Championship in Acapulco, Mexico, on October 18, 1981, could derail the team's competitive momentum.
Fran Muncey (Bill's widow) chose to continue in racing. She received the whole-hearted support of O.H. Frisbie on the condition that Jim Lucero would oversee the operation of the team.
The organization had suffered a lethal wound but managed to fire back every bit as strong in 1982 and '83 with a new Rolls-Royce Merlin-powered hull, a new driver, Chip Hanauer, and a new crew chief, Jim Harvey. They won two more Gold Cups and two more National High Point crowns.
In what would prove to be AVL's "Last Hurrah," they came up with the sport's first truly competitive jet turbine-powered hydroplane, co-designed by Lucero and Dixon Smith. They decisively won the 1984 Indiana Governor's Cup at Madison and claimed yet another Gold Cup on the Columbia River at the Tri-Cities, Washington. They also set a world lap speed record of 140 miles per hour on a 2-mile course and also an unprecedented 145 miles per hour on a 2-1/2-mile oval.
Thanks to the inspired leadership of Mr. Frisbie, Atlas Van Lines, Inc., is remembered as one of the truly great sponsors in Unlimited history. AVL can justifiably be included with such top-notch financiers as Anheuser-Busch/Budweiser Beer, Bardahl Oil, Associated Grocers, and Pay 'n Pak/Eagle Electric.
Although retired from competition, O.H. Frisbie remained an enthusiastic fan and a respected elder statesman in Unlimited racing until his death on September 21, 2004. He was 98 years old.