J. Michael Kelly
Kelly inks multi-year deal with Porter Racing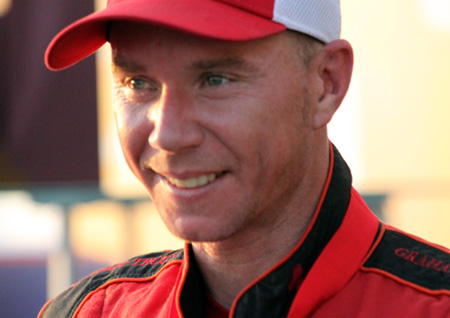 DECATUR, Ind. – While the H1 Unlimited offseason typically brings change, J. Michael Kelly has made it clear he will continue to drive the U-5 Graham Trucking for the foreseeable future.
Team Porter Racing owner Ted Porter said today that Kelly has signed a multi-year agreement to serve as the team's primary driver, after a spectacular season in 2014.
"It's been a great second opportunity with Team Porter Racing, and to have the success we had in 2014," Kelly said. "I'm happy to be back, and I wanted to show the whole team, the Porter family and everyone at Graham Trucking how much I appreciate them, by signing a multi-year agreement to stay with them.
"Winning four races last season, and coming as close as we did to another national championship, really says a lot about this team, top-to-bottom," Kelly added. "I felt like the agreement Ted and I came to really does cement some consistency for the team, and I couldn't be happier."
Kelly, 35, returned to Team Porter Racing last season after a three-year stint in Schumacher Racing's U-37. During his comeback year with Team Porter in 2014, Kelly won races in Madison, Seattle, San Diego and Doha. He has a total of five career race wins, all while driving for Team Porter Racing. He's one of just two drivers who have won the Oryx Cup UIM World Championship twice (2009 and 2014).
"It has been amazing to have J. Michael back on the team," Porter said. "Even more amazing are the results he and our team achieved in 2014. Having him endorse what we do and the way we race by signing a multi-year agreement is the icing on the cake."
Kelly's five career race wins ranks him fourth among active drivers in career wins, behind Dave Villwock (67), Jimmy Shane (8), and Jean Theoret (6).
Rob Graham, president of the team's sponsor, Graham Trucking in Seattle said he's been impressed by Kelly, and is excited to know the driver is staying put longer term.
"Having a guy like JMK in the cockpit is second-to-none, and I know Ted really wanted to keep him there," Graham said. "He's not only outstanding on the race course, and a really good person, he's also a great ambassador for Graham Trucking so I'm excited that J. Michael has agreed to a multi-year contract with the team."
The 2014 win in Doha capped a spectacular season at the helm of Porter's T-6. Kelly not only won four of the six races on the tour, but he also finished second in the H1 Unlimited high points standings, just 421 points behind national champion Jimmy Shane in the U-6 Oberto.
Kelly drove for Team Porter as the pilot of the U-7 Graham Trucking (T-5 hull) in 2009-10, when he finished on the podium eight times in 12 races – one first, five seconds, and two thirds. His first career win in the unlimiteds was the 2009 Oryx Cup UIM World Championship victory, starting Porter's dominance at the Oryx Cup. Kelly has been a fixture among the top drivers in the sport since breaking in to the unlimited ranks, when he was the 2004 unlimited class Rookie of the Year while driving for Jim Harvey.
The 2015 season will be Kelly's 28th season of boat racing. During his career, he has set 25 world records in various classes, six of which are still current, and is a four-time American Power Boat Association Hall of Champions inductee (2003, 2004, 2010, and 2014). Kelly and his wife Angela have two sons, Brennan and Carson, and live in Bonney Lake, Wash.
ABOUT TEAM PORTER RACING

Over the last four seasons, Team Porter Racing has won 11 races, which is more than any other team in the sport over that same span. Team Porter Racing has also won five of the last six – and four in a row – at the Oryx Cup UIM World Championship in Doha, Qatar.

In each of the last two years, Team Porter Racing has won four races on the H1 Unlimited Series. Since joining the H1 Unlimited series in 2006, Team Porter Racing has won a total of 16 races, placing Porter among the most successful owners in the sport's history.

More information about the team can be found at www.u1racing.com, or on Facebook and Twitter.

– Team Porter Racing –
April 1st, 2015