Joe Taggart
Joe Taggart Remembered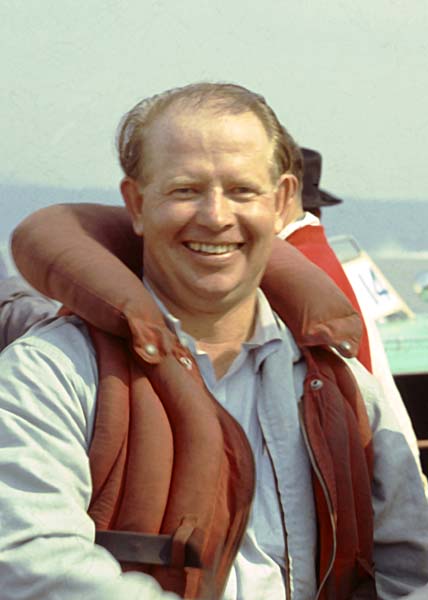 Joe Taggart, a charter member of the Unlimited Hydroplane Hall of Fame, passed away on May 7, 2003. He was just a few days shy of his 96th birthday.
A long-time resident of Canton, Ohio, Taggart is best remembered as driver of the Seattle-based Slo-mo-shun IV, which he piloted between 1953 and 1956.
Joe made his first boat racing impressions on the pre-World War II Limited Inboard circuit. He campaigned a successful series of 225 Cubic Inch Class hydroplanes named Tomyann. At the 1938 APBA Gold Cup Regatta in Detroit, Taggart won the coveted Edenburn Memorial Trophy by placing first, first, and second in a nine-boat field.
A few weeks later, Joe participated in the President's Cup Special Handicap Race at Washington, D.C., and finished third behind Count Theo Rossi in Alagi and George Seay in Miss Manteo II.
The 225s were considered the showcase APBA category in the late 1930s. They were the first to wholeheartedly accept the new-fangled three-point design, which forever altered the course of competitive power boating.
In addition to Taggart's Tomyann, the 225 Class in those days included the likes of George Cannon in Gray Goose, George Schraft in Chrissie, Jack "Pop" Cooper in Tops II, Jack Rutherfurd in Baby Juno, Chuck Schwarm in Miss Behave IV, and Gibson Bradfield in Bad News.
After the war, Joe made his presence felt as a boat builder as well as a boat driver. One of his best customers was the B.G. Bartley team of Pittsburgh, Pennsylvania. Burnett Bartley, Jr., piloted the Taggart-crafted Wildcatter, a 7-Litre hydroplane, to victory in the 1952 and 1953 Governor's Cup races on the Ohio River at Madison, Indiana.
Joe landed his first Unlimited ride in 1952 with Albin Fallon's Miss Great Lakes II. He placed third in National High Points that year behind Chuck Thompson in Miss Pepsi and Danny Foster in Gale II. Taggart piloted the Great Lakes to second-place in the Maple Leaf Trophy at Windsor, Ontario, the Detroit Memorial Regatta, and the President's Cup.
One of Joe's best friends in racing was Lou Fageol, who drove the Slo-mo-shun boats for owner Stan Sayres. In 1953, when Paul Sawyer was fired as pilot of Slo-Mo IV during Gold Cup week at Seattle, a replacement was needed in a hurry. Fageol recommended Taggart for the job.
"For the first time in my life," Joe later recalled, "I had a boat that went faster than I wanted to go."
Seattle hydro fans didn't know much about Joe Taggart in 1953. But Joe took care of that in his own inimitable way. In spite of being a last-minute addition to the Sayres team, Taggart went on to win the Gold Cup in championship fashion--in Joe's words--"the answer to a lifetime's dream."
Slo-mo-shun IV won all three 30-mile heats. Taggart drove the first and third heats with Fageol taking the wheel for the middle stanza. They averaged a record-breaking 92.613 for the 90-mile distance. Joe and Lou ended the day with 2000 perfect points, well ahead of Lee Schoenith in Gale II, Chuck Thompson in Such Crust III, Dan Arena in Miss U.S., and Bill Cantrell in Such Crust V.
In later years, after Slo-mo-shun IV switched from Allison to Rolls-Royce Merlin power, Taggart posted some remarkable speed performances. At the 1955 Gold Cup, he set a 3.75-mile competition lap record of 107.965 and a qualification lap of 119.575.
Joe was two laps from victory in the 1955 Gold Cup on Lake Washington when the engine well became engulfed in flame. He shut it off to save himself and the boat from fire.
After the crash of Slo-Mo IV during a qualification run on the Detroit River in 1956, followed a few weeks later by the death of owner Sayres, Taggart retired from racing. But for the rest of his life, he never strayed far from the sport that he loved.
Joe was an occasional participant in Offshore power boat competition. He test drove "The Pink Lady" Hawaii Kai III in 1957. And he was an enthusiastic crew member for the 6-Litre Inboard team, owned by his son, Dr. John Taggart.
A surprise entry in the 1965 Madison Regatta, was Joe Taggart's Merlin-powered Tomyann (U-14). The boat was an enlarged hull duplicate of Bartley's 1952 Wildcatter. The boat, which Joe had built as a hobby, had been in the works since the late-1940s. A twisted quill shaft prevented the U-14 from qualifying.
Taggart made one final curtain call in the cockpit of "The Grand Old Lady" Slo-mo-shun IV at Seattle in 1990. The Antique Raceboat Foundation (now the Hydroplane and Raceboat Museum) had restored Slo-Mo to running condition. With 83-year-old Joe in the passenger seat and George Woods behind the wheel, Slo-mo-shun IV made an exhibition run on race day morning after a 34-year absence from Lake Washington.
It was a thrill to watch Joe Taggart and his Gold Cup-winning steed "out there" on the race course once again.
Toward the end of his life, Joe busied himself restoring a vintage Dodge runabout. He needed only the upholstery to complete the project. Early on May 7, 2003, the seats were delivered and he proclaimed, "It's finished."
Taggart then lay down for a nap and peacefully slipped away in his sleep.