Kayleigh Perkins
Kayleigh Perkins - The lady in red is ready to rumble
Reprinted from The Seattle Times, July 29, 2007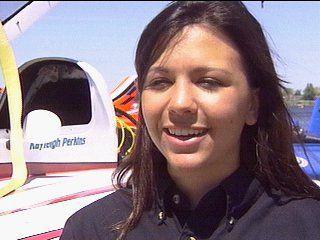 In the male-dominated world of hydroplane racing, 19-year-old Kayleigh Perkins is off to a red-hot thundering start. Strapped into the 1,000-horsepower Miss Boat Electric, "she's gutsy, she's controlled, and she's stomping some of the guys out there," says Jeff Ericson, co-owner of the sponsoring company.
Her first year in the sport, at age 16, Kayleigh won the Port Angeles Cup in the four-cylinder hydro class and became the youngest racer, male or female, to earn the most overall points in Unlimited Light Hydroplane Racing Association history.
This year she has advanced to the more powerful UL 72, a 25-foot rocket that looks like a floating red F-15 and hits 150 miles an hour. With it she was ranked third in overall standings after her first two races of the season.
"It's sheer adrenalin," says Kayleigh, the only woman in the nation racing hydroplanes this big. "Nothing you experience is like it. You have to rely on yourself because you're completely in control."
Which means being strapped in a five-point harness under a Plexiglas canopy that includes an escape hatch if you flip on water that — at race speeds averaging more than 100 miles an hour — turns to concrete. She does get radioed guidance from veteran racer and boat co-owner Phil Bononcini, who says his team deliberately moved from an aggressive male to Kayleigh, whose instinct is finesse. "Let the race come to you," Bononcini coaches. It helps that her boat is the best-cornering on the circuit, he says.
Kayleigh, the daughter of Broadway's Perkins Glass owner Kevin Perkins, grew up on a lake in southeast King County and has been involved in boats all her life. But it was brother Brian who was the racer; she was interested in dance and baking. Her family's long association with racing, however, gave her a chance to give it a try. "You don't realize how fast you're going until the corners, and then your body slams into the side of the cockpit," she says. "I'm sore today."
While she doesn't earn pay, operating a boat that size requires an annual budget approaching $100,000. Steering takes strength, but Kayleigh's size, 5-foot-5 and 130 pounds, gives her a slight advantage. It's easier to use the canard on the boat to keep the bow high, clearing waves and gaining speed.
Her immediate goal is competing in the Unlimited Light race at Seafair. Then, moving up to the 200-mile-an-hour Unlimiteds.