Peter Woeck
Peter Woeck Remembered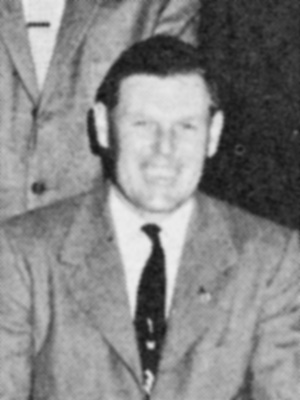 Peter Woeck, who was the representative owner for the Seattle-based Tempest/Miss Burien team, has died. He was 90 years old.
Woeck (pronounced "wick") started in the Unlimited hydroplane sport as a crew member for Norm Christiansen's popular U-4. The boat raced as Tempest in 1956, as Miss Bardahl in 1957, and as Miss Burien in 1958-59.
The low-budget U-4 was built in the owner's basement and measured only 27 feet 4 inches in length, which is now considered rather short for anything with an Allison engine.
Following the 1957 season, Christiansen sold the boat to the crew, which incorporated itself as Tempest, Inc. Peter Woeck was designated as President.
Following the destruction of the original U-4 at Coeur d'Alene, Idaho, in 1959, a new professionally built replacement hull was ordered from Ted Jones. This craft debuted as the second Miss Burien in 1960 and was renamed the second Tempest in mid-season 1961.
Drivers for the team included Bill Tonkin, Norm Evans, Mira Slovak, Bill Brow, Dick Short, and Chuck Hickling. Woeck would occasionally take the wheel during test runs.
One of the smartest things that Pete ever did was to recruit Brow, "The World's Fastest Milkman," from the Limited ranks in 1958. Bill piloted the original Miss Burien to its only heat at over 100 miles per hour at Coeur d'Alene in 1958. Brow went on to a stellar career with the Miss Exide and the Miss Budweiser teams in the 1960s.
Under Woeck's leadership, the U-4 ran basically stock equipment and never won a race. But they aided many regattas by their participation and helped to fill out many fields when racing needed boats in the pits. The team raced exclusively on the West Coast. Their two best performances were second-place finishes in the 1960 and 1963 Diamond Cup races at Coeur d'Alene with Hickling at the wheel.
After eight seasons of the hydroplane wars, the Tempest team decided to call it a career. They sold their Allison engine inventory to Gale Enterprises and the hull to Bernie Little, who raced it briefly as the Miss Michelob in 1964.
The boat was still in competition as late as 1980 as Mike Wolfbauer's Savair's Probe. It is currently repainted as Miss Burien and is owned by the Hydroplane and Raceboat Museum of Seattle.