Russ Wicks
Slaying the Bogey Man [2000]
How Russ Wicks, Ken Muscatel and their dedicated crew despatched the longest-standing record to the history books
by David Tremayne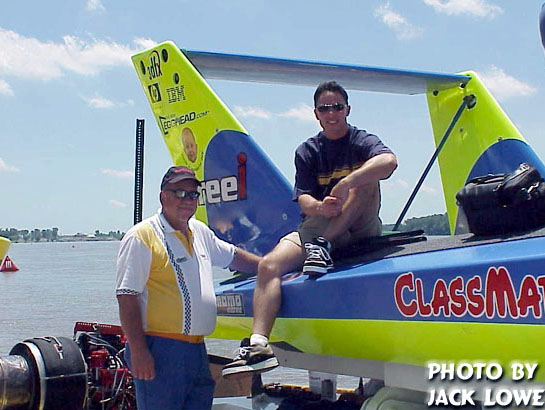 One day the world water speed record for propeller boats was the grand-daddy of all records, the dangerous Public Enemy Number One that rebuffed allcomers during a 38-year reign of terror.
The next it was all over, blown away with seemingly insouciant ease by a team that, with the best will in the world, would not be rated as the tops in Unlimited hydroplane racing.
On June 15th Russ Wicks, a 34 year-old native of Enumclaw, Seattle, climbed aboard Ken Muscatel's Miss Freei and blasted Roy Duby's 200.419 mph record into history with 205.494 mph, using the same stretch of Lake Washington that the legendary Bill Muncey had used in 1960 to create the record that Duby would beat two years later.
Two weeks before that, Wicks had never so much as sat in an Unlimited. Upon hearing that he had beaten the old record by five miles an hour, Miss Budweiser driver and team manager Dave Villwock was quoted as saying that the increment was so small as to be almost insignificant. But the more you look into what Wicks, Muscatel, and crewmen such as legendary radio-control czar Roger Newton achieved, the more impressive it looks.
The first time you meet Russ Wicks two things strike you immediately: the firmness of his handshake, and the intense focus of his eyes. It's not hard to see how this former karter and motocross child star made the big move into uncharted waters, and succeeded. Like many American sportsmen, he has an engaging personality and the ability to articulate his thoughts. His next plan is to start racing in the Unlimited circuit, and his emergence is a good thing for a sport that has been in turmoil in recent years. He is a phenomenon new to Unlimiteds but already familiar in F1 circles: a polished and talented racer capable of bringing budget to a team.
"Being from Seattle, I was around hydroplane racing a lot," he explains when you ask the inevitable question. "It was a big event for us, as a family, to watch the big Seafair race on tv, just as it was to watch the Indy 500 on delayed broadcast. And so was going out to Seafair and watching it live. So I had a big influence of hydroplane racing at an early age, too."
His early heroes were men such as Muncey. "Oh, clearly. I really kind of came in tune with hydroplane racing in '73, '74. My first year in motocross was '73 and I remember the Pay 'n' Pak boats with the new wing. That was state of the art and my favourite boat. They were also the underdog but did well that year and won the World Championship and the National Championship. They beat out Muncey and the Budweiser."
He started racing in motocross, inspired by the stock car racing his father had done in the northwest before he was born. "In my early years I was aware he'd raced from the photos and trophies, and I saw auto racing on tv and decided that was what I wanted to do. At the age of six I started karting, and motorcycling. By the time I was 10 I was very good on a motocross bike and started my first proper race. I raced every single weekend for the next 10 years!"
There were the usual injuries, which he remembers as "all pretty minor stuff." A broken wrist and ankle. Several broken ribs. A punctured lung once. "But ultimately I feel like I survived. There's no doubt in my mind I was one of the fittest motocross racers. I was very, very focused and trained extensively. That's all I did."
In 1990 he came to the UK hoping to drive for Mike Baker's Racefax team. Things didn't pan out but he spent some time here and befriended Richard Dutton, well-known in F3, F3000 and F1 circles and not just for his penchant for wearing red trousers. Dutton and his wife Kim looked after Wicks, who also found time to do the Winfield course at Magny-Cours. "Richard really took me under his wing," Wicks recalls fondly. "He's a wonderful guy."
Wicks had done some Formula Mazda in '86 in the US, and in 1995 he grabbed an opportunity to test Antonio Ferrari's Lola-Ilmor IndyCar at Indianapolis and at the Puttnam Park road course. "I felt very comfortable in it the first time. We were looking towards doing the 1996 IRL series. I was entered for the 500 that year but there were some challenges with Ferrari's sponsorship. I came through with some for myself, but ultimately there were some big problems with Antonio and the way the programme came out."
That was when his mind began turning towards a challenge for Duby's apparently irresistible record. "The discipline and mental focus would obviously be beneficial," he admits. "It was almost two years ago when I started out with this project. It was photographer Owen Blaumann's idea. He mentioned it to me, and he's kind of taken me under his wing with hydroplane racing. So that's how it started, and I really did my research. Learning about the boats, the props, the skid fin. What we could do and couldn't do. I introduced myself to all the team owners, other than Bernie Little, and talked to every one of them about driving for them and about doing the speed record."
"I came across Ken Muscatel early on, a year and a half ago. He was the Commissioner for the Unlimiteds and I wanted to get his support and help with some organising of the actual event. And then I think we started talking, it might have been as long as 15 months ago, perhaps about me doing something with his boat. Originally we looked at running his old one for the speed record run, it was a little narrower, but then we got into the newer boat.
"It was about the time I got talking to Ken about driving for him that I started talking with egghead.com, infospace.com, Gameworks and classmates.com. That's how long it's taken to out that together with them."
In some Unlimited circles there was a little doubt that a rookie could – or maybe even should – try to do the job that had defeated the likes of Dean Chenoweth in the past. "But there wasn't so much resistance," Wicks recalls. "Everyone seemed very willing to talk to me and had some interest, but it was more that they had their existing programme with a driver they liked and had been working with, or maybe their sponsorship revolved around that driver. And of course I needed to get up to speed. I didn't have the qualifications, maybe, but I think most of them respected the fact that I've been racing all my life and that I had done well at motocross and had experience testing IndyCars. If I was competent enough to do that I should be able to do a reasonably good job in an Unlimited hydroplane."
Muscatel, a racer himself, got his new boat running around Seafair time last year, and that's when it came into focus as the likely record attempt boat. It bears resemblance to other craft, having used some familiar moulds in the economy of scale way of Unlimited racing, but had been designed and built by Muscatel's partner Rick Campbell at their Friday Harbor facility in Washington State. The U-14 as it was then known (the registration number was changed to U-25 for 2000) had its share of bugs in its first season, some to do with the positioning of the all-important skid fin which helps it turn left without the need for the driver to back off. On all of these boats it's an elegant piece of engineering, no bigger than an underwater barn door. "They also had kind of a unique makeshift device on the front of the deck," Wicks says. "Sort of adjustable bras, that the driver could move from the cockpit to change the curve of the deck and allow more or less air to flow underneath. It might have been a brilliant idea, but maybe it wasn't executed well enough."
He and the Miss Freei, as the boat was now named in deference to his sponsor, Freeinternet.com, were first acquainted at the beginning of June. The time factor obliged them to test first on the Columbia River at Tri-Cities rather than Lake Washington, the intended venue for the record try. "Our press conference was on May 15, so it was a month before we set the record. The first time I actually drove the boat was June 1, two weeks exactly to the day I broke it.
"It was a bit bumpy on the Columbia River, but there were only certain days we could test on Washington. Tuesday and Thursday, and with limited hours, only from 11am to 2pm. So there were only three hours you could test, and you'd really want to be testing earlier than that to get the calmest water. So we went to Tri-Cities because we knew we could do a full day."
His first impressions of Miss Freei are interesting. Remember, this was a boat racing rookie stepping into a 3000 bhp craft, powered by the Lycoming L7C turbine engine usually found in Chinook helicopters…
"I'd never driven a hydro before. I'd spent a little time in offshore boats, cigarettes like Scarabs. I'd been over 100 in a Fountain boat on the Mediterranean, and off the coast in California and here in Puget Sound. But apart from that I'd not been in any kind of racing boat whatsoever. I anticipated it to be a cross between motocross and driving an IndyCar very fast, and I think that was a good comparison.
"When you first start off there is definitely some lag with the turbine. You're pushing on the pedal and you hear the engine spooling up. You're thinking that it's gonna go but it kind of sits there and sits there, and then when it takes off it's quite accelerative. I was very careful. I knew that it was about ready to go, so I really concentrated on the foot control there.
"It jumps out the water pretty quick. There's a good balance. There's no doubt in my mind I did an excellent job from the first time I trailer fired the boat twice in Havasu, to pretty much every time I fired up the boat and took off from the dock. I had a good feel for it. It's very challenging when you're coming in, though!
"The day I broke the record, for some reason I didn't have any radio communication approaching our pit area, so when I was coming in I didn't have anyone to guide me."
As all boat racers know, coming into shore has the greatest potential to make you look a complete idiot, because you don't have an awful lot of control over an off-plane boat the way you do a slow-moving car. Indeed, Muscatel himself had to spin Miss Freei to a halt when he made a quick test run, after the throttle stuck as he was manoeuvring to the jetty.
"I don't know what happens," Wicks ruminates, "but the boat has a tendency, when you flip off the master switch, to keep going a little bit. I don't know if there's some fuel still being burned in the engine or what, but in order to shut it off you need to hit the fuel safety switch and kill the motor that way. But when you're bringing the boat into the pit area and you start coming off plane the water starts coming up all over the canopy and you can't see anything. You're just blind. Once you're off plane you slow down pretty quick, but it's just knowing when to make sure you're coming off plane… Being able to bring it in and come into the dock area, all three times we ran, without any communication was, to my mind, as much an accomplishment as going out and setting the record."
The attempt was initially scheduled for June 14th, but they were blown off by high winds. With three races looming over the ensuing three weeks – Evansville, Madison and Detroit – things were momentarily looking bleak. But their luck held. "The key for us, what really made our record run go really well, was the ideal weather. We needed that," Wicks says.
Thursday, the 15th, could no have been sweeter. But there was plenty of trouble. In one test the Freei ran out of fuel. On another it chewed up its propeller shaft and strut bearings. Russ was close to running out of sanction too, because the clock was ticking. It was 10.30am when he started what would be the first leg of the record run. The sanction ended at 11. But this time he entered the mile at 190 and came out at 221. And Miss Freei was still accelerating…
"It was one of the best runs I've ever had," he recalls, eyes shining with the memory. "It was very smooth. The water was beautiful. I was on and off the radio announcing my speeds to Larry Oberto, all the way through the course, and as I crossed the last buoy I told him it was one of the smoothest rides I ever had."
He averaged 207.254 mph through the mile. The return run was slightly slower, into the wind and on a slightly rougher course. That yielded 203.735, enough to cement a new record of 205.494 mph. "I knew I had broken the record as I passed the last buoy," he smiles. "It was a real buzz."
He went on to describe the sensation of driving an Unlimited.
"The water is the biggest equation. Even when it's smooth there's a little bit of violence involved when the boat comes up on plane. There's an area when the boat's kind of sorting itself out. The nose needs to come up first to get a little air under the boat, then once you get going a little faster and it starts running really good, the back end will pop up. In that transition period it's kind of awkward and bumpy. At the same time there seems to be a little bit of pull in the steering wheel because of the skid fin. It wants to go to the left still. It would do that until I reached a certain speed, and then it would sort itself out.
"There are also the effects of torque, and a lot of that had to do because we used the bigger propeller. We had a lot of pitch on it, and there was a lot of torque. The boat wants to turn to the left, and the propeller is spinning to the right, so you need to be careful how fast you accelerate. If you accelerated very fast there is a chance the boat would have spun out. Smooth acceleration is usually better.
"A mile isn't a lot of space, considering I had to slow down and use up water to turn the boat around too. I actually was able to see where I had run and went through the same run on the way back south. I ran into some rollers very close towards the exit buoy and the boat started to get a bit light. I got on the left pedal and put some front wing into it and brought the nose down a little. That worked fine but I'm sure that slowed us down a little. I was flat on the throttle the whole time, though."
Wicks is now something of a star in Unlimited circles, and deservedly so, for his tenacity finally shooed away the bogey man that had protected Roy Duby's fantastic record. Maybe more Unlimited teams will try a crack at the propeller record now. As for Wicks, he's looking in the opposite direction, and hopes to do some racing in the series.
"We'll see what happens. The way that the programme was put together with my sponsor, Freeinternet.com, was that I would get in, do the speed record, go to the events, get some seat time on Fridays and Saturdays, and then see. It's much different to the record, of course, but I feel comfortable going round in circles and competing. I think it's gonna be easier than a lot of people think. I thought that going out and making a good attempt was easier than a lot of people thought, as well."
The remarks are made without the braggadocio you might read into a bald statement on a page. There is no towering ego at work here, but likeable Wicks is intense and simply believes in himself. No crime there.
And they did make it seem easy, Wicks, Muscatel, Newton and the crew. Villwock and the Budweiser empire were alleged to have curled a lip at a mere five mile an hour increase, but since Art Asbury and Miss Supertest beat Slo-Mo-Shun IV's 178 mph record in November 1957 the increments have always been small – 3.13 for Jack Regas and Hawaii Kai; 4.37 for Bill Muncey and Miss Thriftway; 8.42 for Roy Duby and Miss U.S. 1. It's not a record that has been used to big jumps.
You could make a strong case for nominating this as one of the slickest record attempts ever made. Duby's record had stood for 38 years, and here these guys were, one who had never sat in an Unlimited before, going from zeroes to heroes in a mere fortnight. Segrave and Sir Malcolm Campbell would have been hard-pressed to match that. They did find that the prop couldn't be turned by hand after the record, however. Those damned shaft bearings again…
"I can't speak for David Villwock and the Budweiser team," Wicks says formally, with a slow smile, "but I'm aware that he said something to the news media about our speed not being that tremendously fast when we broke the record. And that maybe they would come out and break it. I spoke to David the very next day and he didn't have a whole lot to say about their attempt, and if they were gonna make one. I guess I'm under the impression that they probably won't. But I encouraged him. I told him that I thought it would be wonderful for the sport for them to come out and take the record."
Amen to that.