Walter Kade
A Tribute to Walt Kade
By Fred Farley - APBA Unlimited Historian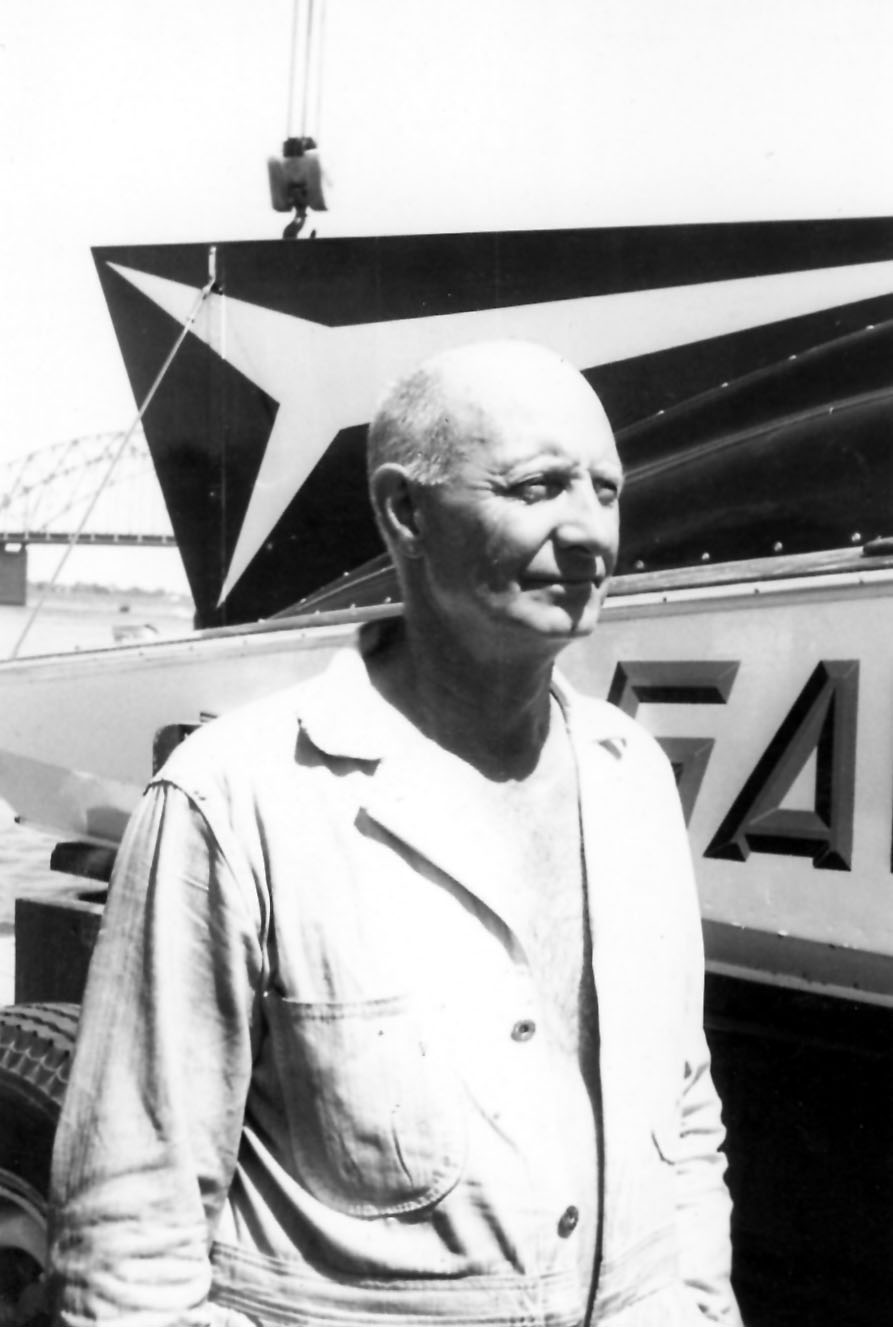 Walt Kade, one of Unlimited hydroplane racing's most respected veterans, left this life in 1995. But I remember him well.
The oldest man ever to drive in Unlimited competition, Kade was 68 when he last raced in 1972 as pilot of Jack Buhl's Sweet Thing.
Walt worked on the crew of Gar Wood's Harmsworth-winning Miss America VIII in the 1930s. Kade remained active in the sport as late as 1980 as crew chief for Mike Wolfbauer's Savair's Probe.
As driver of Horace Dodge Jr.'s My Sweetie in 1951, Walt was the man Orth Mathiot was trying to pass when Mathiot's ill-fated Quicksilver crashed to the bottom of Lake Washington during Seattle's first Gold Cup race.
Kade's one Unlimited victory was the 1955 St. Clair International Trophy at St. Clair, Michigan, with Jack Schafer's huge twin-Allison-powered Such Crust III.
Walt's the one who was accused of intentionally blocking Bill Muncey and Miss Thriftway with Such Crust III in the 1955 Gold Cup, thereby allowing Gale V to win the race on elapsed time--an allegation without basis in fact and absolutely denied by Kade. ("I didn't know Muncey was behind me. I thought he was either back in the pack or out of the race. I was trying to get by the Breathless. Then, Muncey went by both of us on the outside.")
Walt finished second in the 1954 Maple Leaf Trophy with Wha Hoppen Too and the 1968 Wisconsin Cup with Savair's Probe. His highest National Point finish was a third-place performance in 1951 with My Sweetie and Delphine X.
Kade's pride and joy was the Detroit-based Savair's Mist, which he built (as Miss Lumberville) in 1961. Serving as both driver and crew chief, Walt was a fixture on the Unlimited circuit with Savair's Mist between 1965 and 1969.
During his career, Kade also saw competitive action with Thunderbolt, Blue Chip, Totem Trailer Sales, Dora My Sweetie, What A Pickle, Such Crust IV, and Fascination I.
Whether on or off the race course, Walt Kade represented the sport well. He was never too busy to sign an autograph or pose for a photograph.
Crew member Bob Morris, who worked with Kade on the Savair boats, thought so much of Walt that he named one of his sons after him.
This writer's first interview with Kade occurred at the 1965 Coeur d'Alene, Idaho, race. Yours truly was a college student at the time and represented a now-defunct publication called The World of Boat Racing.
Walt was an established veteran of the sport, and I was a green rookie. But he treated me as if I were the Sports Editor of the New York Times. I listened in utter rapture as he told me about the boats and the people in Unlimited racing's classic past. I felt like a political science major interviewing Abraham Lincoln.