2017 Guntersville Exhibition
Work Continues on Guntersville Return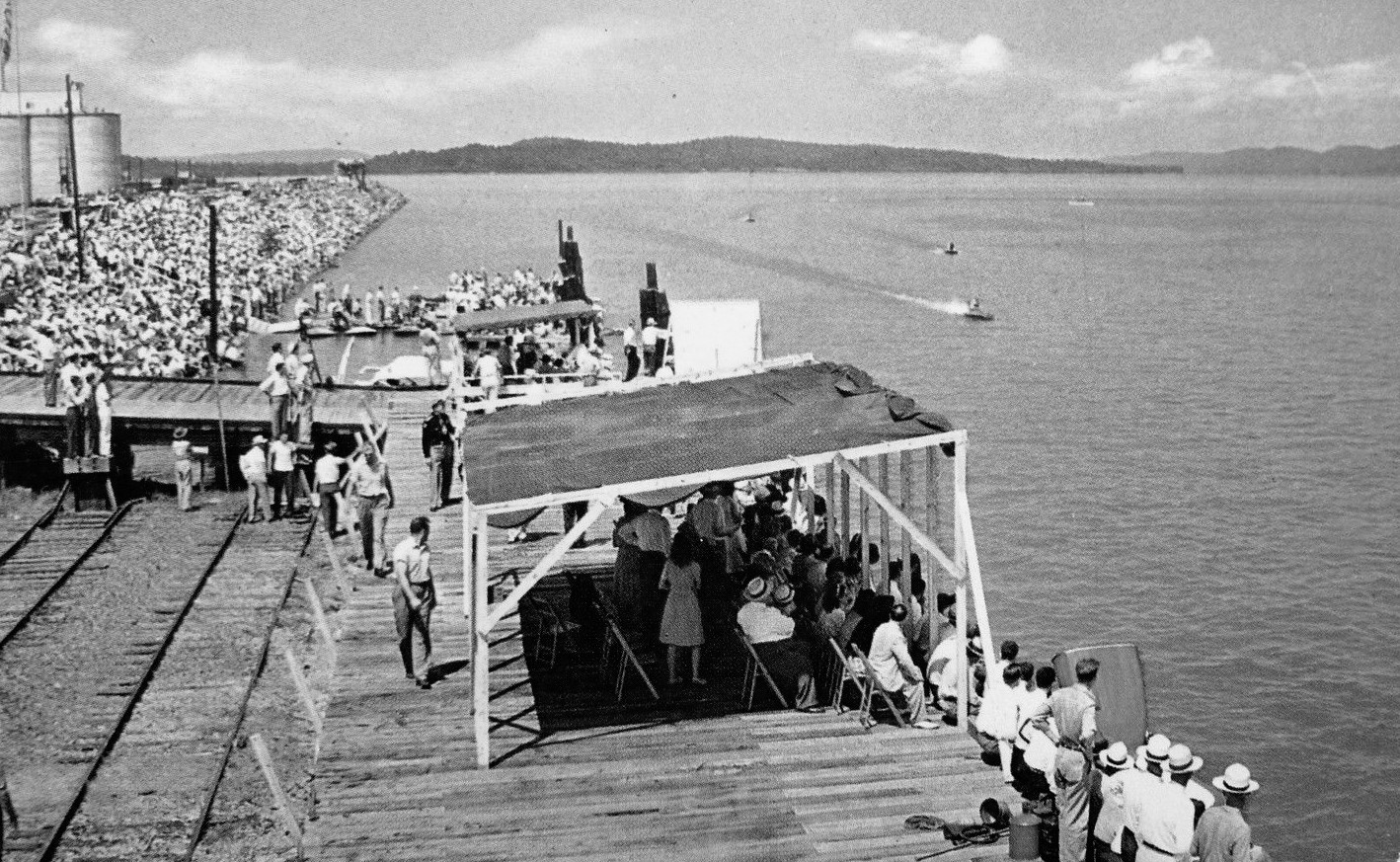 Alabama's Marshall County Convention and Visitors Bureau continue their development of a lakeside celebration that will showcase H1 Unlimited hydroplanes during the three-day event in 2018. The event will help commemorate the bicentennial of Alabama.
In anticipation, Marshall County Convention and Visitors Bureau will hold an on-water test session showcasing a few of the H1 Unlimiteds including local race team U-27 Wiggins Racing team. The test session is scheduled for June 17, 2017 from 9:00a-4:00p on Lake Guntersville near the Guntersville Levee Trail.
Officials hope that the test session in 2017 will attract other teams, including those based in Indiana.
The two events will bring the tradition of powerboat racing back to the lake according to H1 Unlimited's Ted Grange who along with the nearby residents Milton and Charley Wiggins and Marshall County Convention and Visitors Bureau President Katy Norton have been orchestrating together for over a year.
Grange said that unlimited hydroplanes have not raced on the lake since the running of the 1969 Dixie Cup race. The Dixie Cup race was held five times between 1963 and 1969 and kicked off the season just as it will in 2018.
Smaller inboard and outboard boats raced on the lake for more than 40 years, ending in the 1980s.
The lake gained its first national attention when Roy Duby drove the Miss US unlimited hydroplane becoming the first person to ever go over 200 mph in a race boat.
"Boat racing was one of the very first sporting events held on Lake Guntersville following the building of the dam," Norton said.
"It was a tradition in our county, one that we are pleased will continue through our new partnership with H1 Unlimited. We hope that the race in 2018 begins a new era of water events held on Lake Guntersville."
Tourism officials hope to make the event an annual one, and say the county and surrounding areas will feel a tourism impact.
No stranger to national events, Marshall County hosts the Walmart FLW tour, a fishing tournament on the lake that generates thousands of dollars to the communities that surround the lake that stretches 75 miles.
Norton and other Marshall County officials estimated attendance for the H1 Unlimited race will anywhere from 30,000 to 60,000 drawing from Birmingham, Huntsville, Chattanooga and mega cities Atlanta and Nashville.
Guntersville is about two hours away from Talladega Speedway, which host an annual NASCAR Sprint Cup race that draws 80,000.
PAST EVENT WINNERS

1963 Alabama Governor's Cup (2½ miles course), Miss Bardahl, driver Ron Musson.
1964 Dixie Cup (2½ miles course), Notre Dame, Bill Muncey.
1965 Dixie Cup (3 miles course), Miss Madison, Buddy Byers.
1968 Dixie Cup (2½ miles course), Miss Eagle Electric, Warner Gardner.
1969 Dixie Cup (2½ miles course), Miss Budweiser, Bill Sterett.
November 30th, 2016
[H1 Unlimited]