David "Salt" Walther
The Tragic Saga of Salt Walther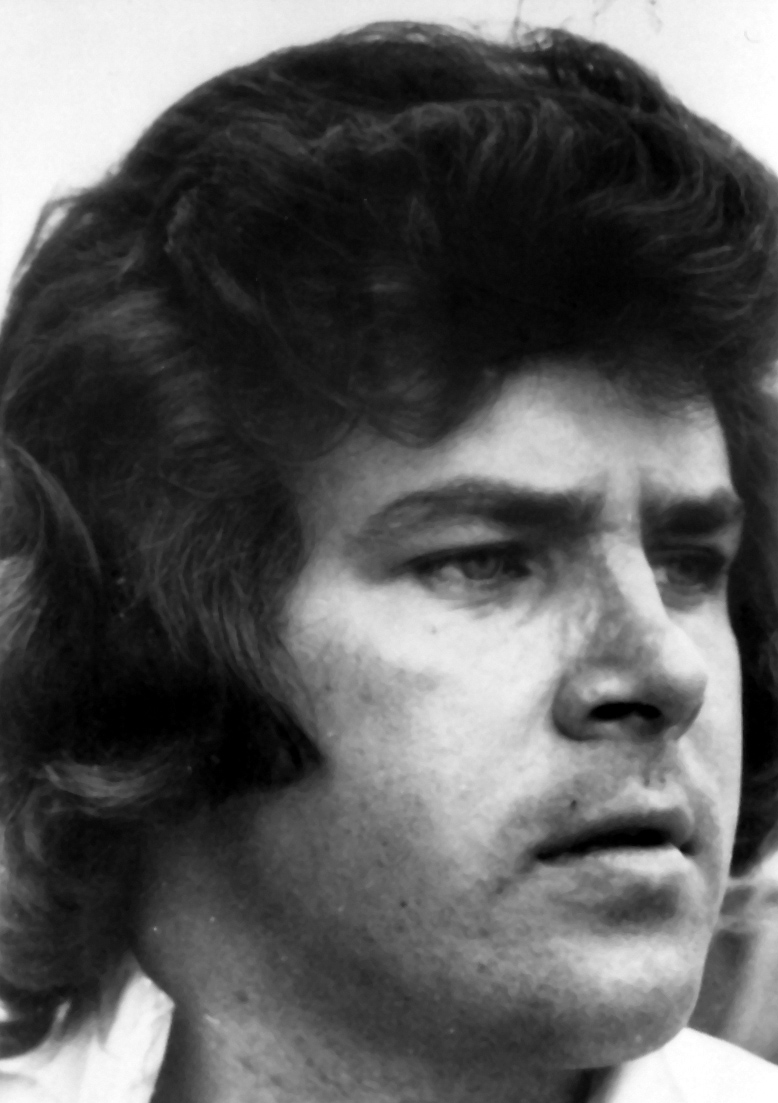 David "Salt" Walther, who passed away December 27th in Trotwood, Ohio at age 65, will be remembered for making a courageous comeback after being badly burned in the 1973 Indianapolis 500 but that was the high water mark of a life of opportunities lost.
Born in 1947 the youngest son of Dayton industrialist George Walther, who fielded cars at Indianapolis for three decades. Salt got his nickname and start in boat racing. His exploits in the 7-Litre Country Boy prompted George Simon to hire him as the driver of the Miss U.S. in 1970.
Walther drove the bob-tailed Miss U.S. in his initial race at Tampa, scoring a seventh place finish. But the boat had seen better days, so Simon leased the Karelson-built Miss Bardahl from Bernie Little, who was campaigning the boat that year as Miss Budweiser II.
In 1971 the Walthers took delivery of a brand new Ron Jones cabover Unlimited. Driven by Salt, and crew chiefed by his brother Jeff, the new Rolls-Merlin powered Country Boy sprinted to the front in nearly every heat, only to break down a lap later. This pattern continued into the '72 season, with Salt failing to finish in every race he started.
Turning to auto racing, the Walthers entered Salt in the Indianapolis 500 with the Dayton Steel Wheel Special. He qualified 27th and became a regular on the USAC Championship trail. Sporting long curly hair, custom sun glasses and a personal PR man, Walther was more style than substance in most of his fellow drivers' eyes but generated his share of attention.
In '73, he qualified 17th at Indianapolis but was coming down for the green flag when he helped trigger a fiery, 12-car accident that saw Walther's car catapult across the spectator fence, spraying fuel on fans and landing upside down with Salt burning and trapped. He suffered third degree burns over 40 percent of his body and spent two and a half months in the Michigan Burn Center.
He'd lost 50 pounds and most of the fingers on his left hand so he wore a black glove on that hand upon his successful return to Indy in 1974 - where he qualified 14th and broke down in the race.
A new boat was built for Salt but was never raced and eventually sold. And tragedy again struck the Walther family when Salt's older brother, Skipp, was killed in an accident driving the Red Man at the 1974 Miami Unlimited Regatta.
That September, the Unlimited hydros were racing in Salt's hometown of Dayton, Ohio. Local promoters wanted him in the race, so the Walthers acquired the Karelson Miss Budweiser from Bernie Little, got long-time crew chief Jim Kerth to set her up, and entered the 1974 Dayton Hydroglobe.
Salt's return to boat racing was amazing. Racing the Bud-colored U-77, he placed third in a 15 boat field behind George Henley in Pay 'n Pak, and Howie Benns in Miss Budweiser, but ahead of Bill Muncey in Atlas Van Lines.
1975 saw Walther racing Indy cars on a full-time basis, but he did find time to race on the water at Dayton again. This time. Daddy George bought the Ron Jones Notre Dame hull for Salt and Jeff. Running as U-76 Bootheads, he scored a third and a DNF, but had fun waving to the fans as he skirted the beach on Eastwood Lake.
He ran the same boat at Dayton in 1976, this time running as U-77 Spirit of Dayton-Walther. He didn't finish, and so ended Salt's boat racing career at the tender age of 28.
Continuing in auto racing, according to IZOD IndyCar series writer Robin Miller, "In 1977 Walther created a media firestorm. It began on the fourth day of time trials for the Indy 500, where he was next out in the qualifying line with the 6 o'clock gun approaching. Rookie James McElreath was on the track halfway through a run that wasn't going to be fast enough and George Walther was out on the pit wall pleading with McElreath's father to wave off his kid's attempt so Salt could get on the track.
"McElreath, one of the most respected drivers of the '60s and '70s, refused and said to the elder Walther: 'George, you've owed me $800 for about 10 years so I guess this makes us even.'
"So the Walthers went to Lee Elkins, whose car had been qualified by Bill Puterbaugh, and bought that ride for Salt, or at least attempted to. When word got out Puterbaugh's car had been sold out from under him, fans and the media raised such a stink that it was decided to abandon that idea and just put Dayton Steel Wheel sponsorship on Elkins' car in the race."
Walther qualified for Indy in 1978 and 1979 before a brief fling in NASCAR and a try in Hollywood with cameos on the Dukes of Hazard and The Rockford Files.
Ironically, his greatest achievement at Indianapolis came in 1990 when he showed up with an old Penske chassis and stuck it in the show with a tremendously ballsy effort only to get bumped in the final minutes.
But his addiction to pain killers and other offenses would prove to be his undoing as he was in and out of jail from 1998 until his death .
In 1998, Walther was convicted of "illegal conveyance of painkillers into jail". In 2007, he plead guilty to failure to pay child support. In August of 2007, he was sentenced to 16 months in prison for felony nonsupport of dependents.
A life that held so much promise in the world of racing, and especially in boat racing, took some very unfortunate turns. Still, Salt Walther definitely had a curious sort of charisma in the eyes of the fans. As his career played out, you felt something for the 'poor little rich kid' who fell off the track, but couldn't seem to get back on.
[Reprinted from Thunderboat, January/February 2013]