Mickey Remund
The Mickey Remund Story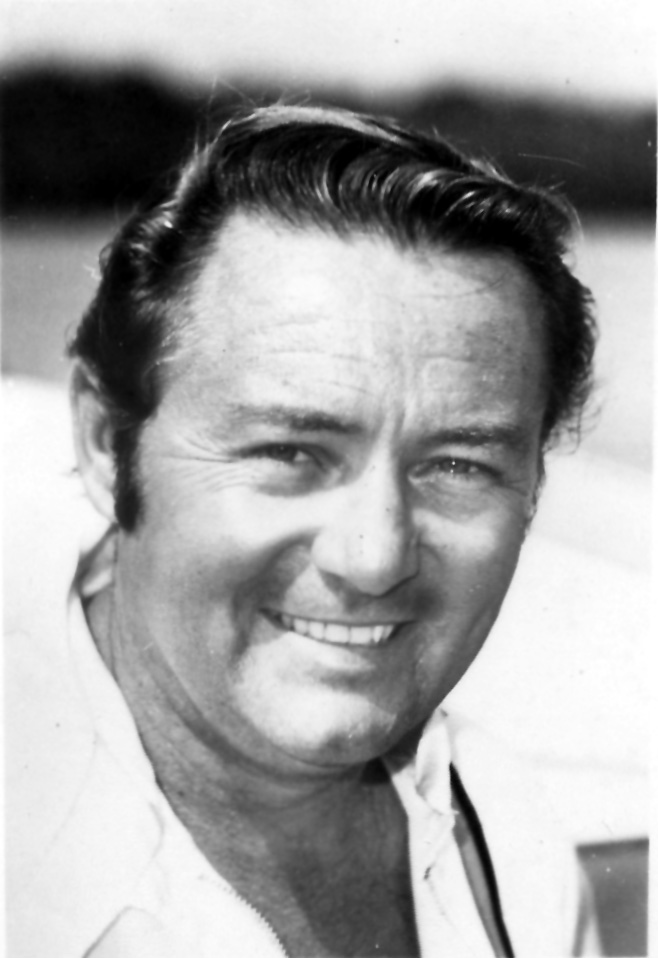 Every sport needs its own version of "The Mick" to capture the enthusiasm of the fans.
"The Mick" in baseball was Mickey Mantle; "The Mick" in boat racing was Mickey Remund.
One time, at a race in Madison, Indiana, a group of youngsters approached Remund, requesting his autograph. He replied, "I have to test the boat right now. But if you'll meet me on this very spot in exactly 20 minutes, I'll sign all the autographs you want."
Mickey kept his promise. He gave those kids a fan experience they would never forget with autographs, handshakes, and a friendly smile.
The man had class.
A machinist by trade, Mickey Remund (whose real first name is Eugene) started racing power boats in 1958. He won his first National Championship Race in 1963 with Dr. Henry Eastman's 48 Cubic Inch Class Piranha, winning both heats and averaging 69.018 miles per hour with the Crosley-powered craft.
In 1972, the Palm Desert, California, resident won nine straight races and the Inboard Nationals with the 5-Litre Modified Class Going Thing.
Remund made his Unlimited hydroplane debut in 1970 when he showed up at Seattle as the rookie driver of Bob Patterson's Super Cinders II (later renamed Miss Van's P-X). The Patterson team was a low-Budget operation. But Mickey managed to qualify for the Final Heat of his very first Unlimited race, finishing an overall sixth in a 14-boat field.
Asked by a newspaper reporter his first impression of Unlimited racing, Remund replied. "Oh, I could learn to love it."
His big break occurred in 1973 when he was hired as pilot of Dave Heerensperger's "Winged Wonder" Pay 'N Pak, one of the most significant boats in hydroplane history.
Designed by Ron Jones, Sr., the Pay 'N Pak was wider and flatter than most of her contemporaries and represented the next generation of hull design, which was to dominate Unlimited racing for the next several years.
Although not significantly faster on the straightaway than the other post-World War II Unlimited hydroplanes, the Pak could corner better and faster than any boat ever built up until that time.
During the 1973 season, Mickey won four out of nine races, finished first in 20 out of 28 heats entered, and was National High Point Champion. He set qualifying records at seven races, competition lap records at six races, and was the first driver to do a lap of 126.760 on a 3-mile course.
Remund won all three heats of the season-opening Champion Spark Plug Regatta at Miami Marine Stadium and--in so doing--thoroughly humiliated the defending National Champion Bill Muncey, driver of Atlas Van Lines, who placed a dismal fifth.
At the Indiana Governor's Cup in Madison, Mickey experienced some anxious moments in the Final Heat. That was when the Pay 'N Pak's aluminum steering wheel broke apart in his hands prior to the start and two of the three spokes of the steering wheel came loose. Remund managed to win by firmly gripping the one spoke and the base of the wheel in the hope that it would all hold together.
The race for which Mickey Remund is best remembered is his victory in the 1973 World's Championship Seafair Trophy on Seattle's Lake Washington.
Despite mist and rain, the competition was superb and unforgettable. The Pak 'n Pak with Remund and the Miss Budweiser with Dean Chenoweth ran side-by side. Mickey and Dean shared the same roostertail en route to becoming the first boats in history to average better than 120 miles per hour in a heat of competition. A local newspaper labeled the Pak and the Bud as "the champion fogcutters of the world."
Remund also took first-place in 1973 at the one and only Unlimited race ever run in Toledo, Ohio. Mickey won all three heats of the Clearwater Cup and trounced perennial rival Miss Budweiser in the Final Heat.
The Pay 'N Pak team's only major disappointment of 1973 was the APBA Gold Cup at the Tri-Cities, Washington.
Remund appeared to have things well in hand. He won his three preliminary heats and had a clear lead in the finale. Then, on lap-two, the Pak lost a blade on its propeller. The boat bounced crazily a couple of times and settled to a stop. Miss Budweiser went on to claim the victory.
This was a most unfortunate turn of events for Pay 'N Pak, which had posted a Gold Cup competition lap record of 119.691 on the first lap of the Final Heat. Moreover, the "Winged Wonder" had set a Gold Cup qualification record for two laps at 124.309 on the 2.5-mile Columbia River course.
When contractual negotiations between Remund and Heerensperger broke down at the end of 1973, Mickey was replaced as Pay 'N Pak driver by George Henley.
Remund spent an unsatisfying 1974 campaign at the wheel of Bob Fendler's rough-riding Lincoln Thrift before being signed by Bernie Little's Miss Budweiser team in 1975.
Mickey once again had a top-notch competitive ride. He came back to haunt his former Pay 'N Pak teammates by winning the President's Cup at Washington, D.C., and the Desert Thunderboat Classic at Phoenix, Arizona. He might have won more in 1975 if Miss Budweiser hadn't broken so many hoses.
Prior to the season, owner Little had refused the Miss Budweiser crew's request to re-plumb the boat. Bernie later admitted that this was a mistake and apologized to the crew for it.
Remund briefly retired from the sport after 1975 but was called back to the Miss Budweiser team in mid-season 1976. This was after pilot Howie Benns had fractured a leg in an accident at the Gold Cup in Detroit.
Mickey found himself at the wheel of a different version of the Miss Bud than the one that he had driven the year before. Like its immediate predecessor, this particular hull likewise benefited from the design talents of Ron Jones. The craft scored a decisive victory in the 1976 Seattle Seafair Regatta with Remund in the cockpit.
Moreover, Miss Budweiser set a world 2.5-mile competition lap record of 124.481 at the Tri-Cities Columbia Cup in 1976.
In 1977, Remund's final year with the Miss Budweiser, he won his second National High Point Championship. To do this, Mickey had to defeat a hull that was a design generation ahead of Miss Bud. This was Bill Muncey's "Blue Blaster" Atlas Van Lines, co-designed by Jim Lucero and Dixon Smith, which established once and for all the viability of the cabover design in Unlimited racing.
Remund managed to defeat Muncey in 1977 not so much on the basis of speed--although Miss Budweiser had plenty of that--but on reliability. Mickey finished all 28 of his heats that year and won the races in Madison, Dayton, and San Diego.
Bill and the "Blue Blaster" broke speed records all over the country in 1977 and were clearly the dominant team with six race victories, including the Gold Cup. But they had an off-day at Madison, Indiana, where the Atlas Van Lines had a DNF in Heat Two and didn't make the cut for the Final Heat. This came back to haunt the Atlas when National Points were added up at season's end.
Muncey, in essence, won six of the nine battles, but lost the war…to Mickey Remund.
It is interesting to note that Remund was able to win the National Championship in two of the three seasons that he had a realistic shot at the title…and with two different teams: Pay 'N Pak and Miss Budweiser.
Mickey retired once again after his stellar 1977 campaign. He made one final curtain call as an Unlimited driver in 1984 with Bob Steil's The Squire Shop. Remund's old friend Jim Harvey, a former Miss Budweiser crew member who was now crew chief for Squire, was instrumental in Mickey getting the job with Steil.
Remund had been away for seven years. The sport had changed. 1984 was the year of the turbine revolution. The Squire Shop, which used the time-honored Rolls-Royce Merlin, represented the old technology.
There were those who feared that Mickey had been out of the loop for too long. Did Remund still have what it took to be competitive? Yes, he did.
At season's end, The Squire Shop occupied second-place in a field of 20 boats in National High Points with a victory at Syracuse, New York. Mickey also took second-place at Evansville and Detroit and third-place at Lake Ozark and Houston.
An unrealized ambition of Remund's was to win a Gold Cup race. He finished second in 1977 with Miss Budweiser and almost pulled off a victory in 1984 with The Squire Shop.
At the 1984 Tri-Cities Gold Cup, Mickey and Squire made a perfect start in the Final Heat. Remund led out of the first turn with Chip Hanauer in the turbine-powered Atlas Van Lines and Jim Kropfeld in the Rolls-Royce Griffon-powered Miss Budweiser in hot pursuit. The three boats were two buoys apart after lap-one with The Squire Shop still on top.
Kropfeld blew his engine going into the first turn of lap-two, while Mickey continued to hold off Atlas Van Lines. Coming out of the second turn on lap-three, Remund burned a piston in the Merlin engine, just as Hanauer pulled even with him. Squire coasted to a stop, and Atlas was on its way to the bank.
After a quarter century of hydroplane racing, Mickey decided to call it a career after a third-place finish in the UIM World Championship Race on Clear Lake in Houston, Texas.
Mickey Remund's career box score shows eleven victories in 53 races between 1970 and 1984. Very few drivers have been able to score double-digit race wins in the Unlimited Class…and with three different teams.
And who could ever forget that "Race in the Rain" with Dean Chenoweth in 1973! If "The Mick" had done nothing else in his entire career, he deserves to be remembered for that.