Roger Newton
Seattle's Racing Godfather Passes Away
Roger Newton, known as the "Czar" of R/C Unlimited racing, died on Saturday, August 9 in Seattle after being hospitalized with heart problems. Roger designed and built radio controlled models of nearly every Unlimited known to man. He was crew chief on Ken Muscatel's U-25 Superior Racing team, and, more recently, served as propeller man for the U-48 and U-50 Unlimiteds.
Detroiters will remember Roger for gladly supplying us with plans for building models of our favorite boats. Rest in Peace, Roger and thanks for all you've done.
[Reprinted from Thunderboat, September 2008]
* * *
Roger Newton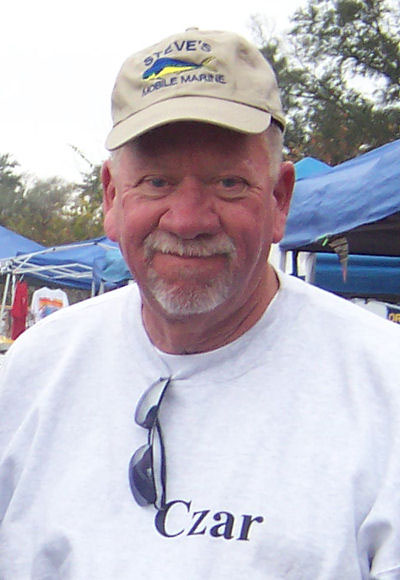 Roger J. Newton, former crew chief for Ken Muscatel's unlimited hydroplane team from 2000 to 2005, passed away Saturday, August 9th as a result of complications from quadruple bypass surgery. He was 65.
"He was my crew member for several years before that too," added Muscatel. "Roger was the restoration manager on Hawaii Kai, Slo-mo-shun V and most recently, Hurricane IV, as well as participating on most of the restoration at the Hydroplane and Race Boat Museum."
"He has been a part of hydro racing for thirty years or more, and he was the "Rajah" of RC unlimited, with his designs and models known throughout the RC racing world," added Muscatel. "Roger is known and loved by everyone who met him, and everyone in our sport. He was a historian, long time board member of the Hydro and Race Boat Museum, collector, raconteur and great guy. He will be greatly missed."
Roger was a valuable member of the restoration team at the Hydroplane and Race Boat Museum in Kent. He worked hundreds of hours on the museum's various restoration projects, and often assumed management positions on those teams. He was also the Secretary on the Museum's Board of Directors.
"His craftsmanship and detail were simply incredible, said Steve Montgomery, unlimited hydroplane TV and Radio broadcaster. "He was the Godfather of the RC/Unlimiteds" in the Northwest, and carried the nickname 'Czar Roger' among the competitors.
"I remember he crewed for Ken Muscatel during the time Russ Wicks drove Ken's boat to the straightaway record," added Montgomery. "Most recently, he was on the crew of Greg O'Farrell's U-50 team. In fact, it was in the Tri-Cities two weeks ago that he first reported not feeling well. His heart attack came the following Monday."
Newton was the prop man for O'Farrell this past season. In 2007, he was the prop man for Dave Bartush's U-13 team.
He was the founder of the RC/Unlimited Racing club in the Northwest and it wasn't until after his retirement from the Renton Fire Department, he became more active in full-size Unlimiteds.
Roger is survived by his son David and daughter Debbie. A celebration of his life was held at the Hydroplane & Raceboat Museum on Saturday, Aug 16. For more information, please go to: www.thunderboats.org.
[Reprinted from Thunderboat, October 2008]