Steve David
Steve David - A Man with a Mission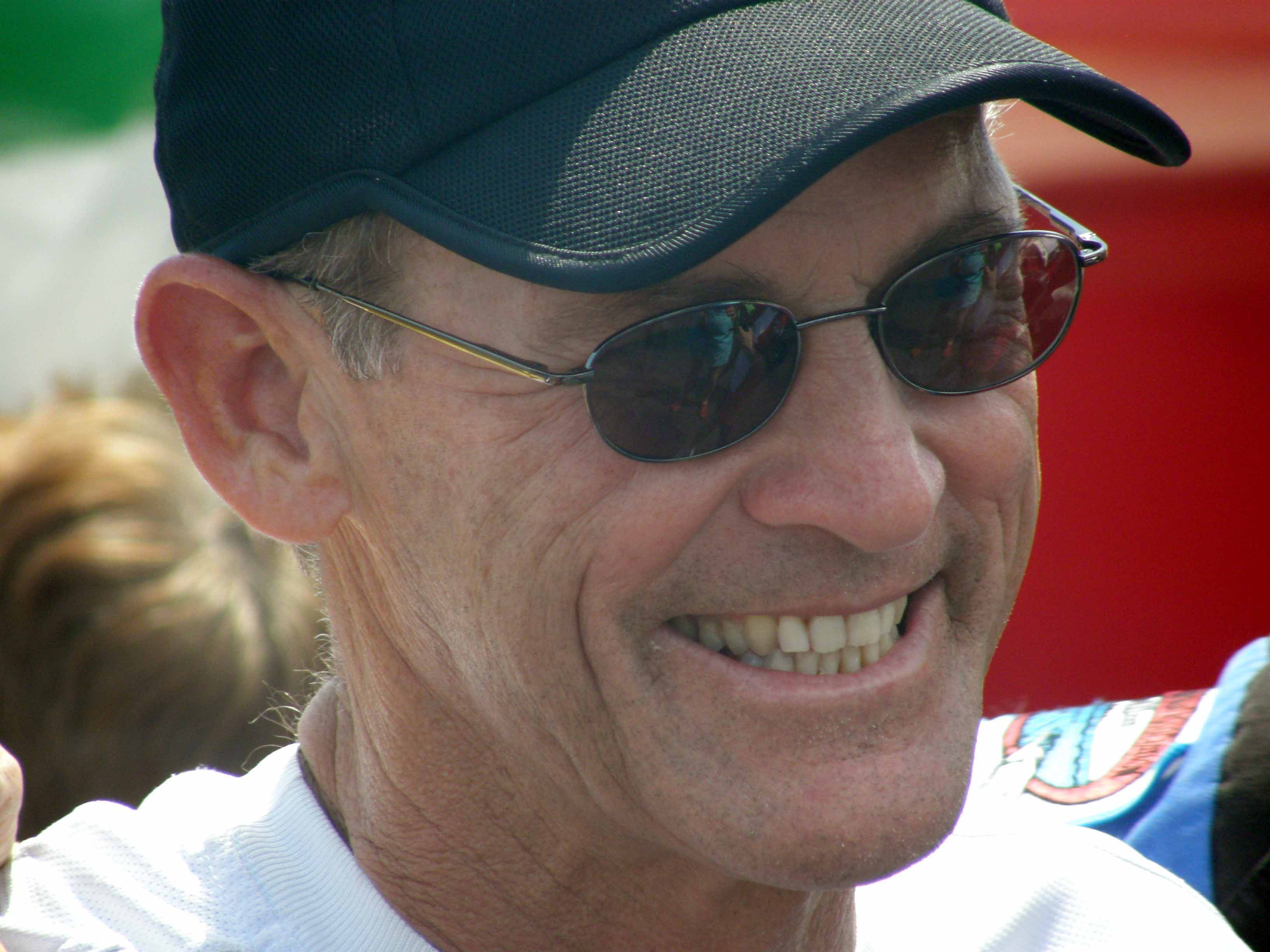 Oh Boy! Oberto driver Steve David is really on a roll. Having won the last two races of 2007, Steve has every intention of picking up right where he left off when the starting gun fires in 2008.
In David's words, "What a season! It's amazing what a half million will do!
"I say that tongue-in-cheek because we raced against teams that spent a lot more than we did, and we kicked their butts."
Seldom has a brand-new Unlimited hydroplane made such a positive impression in its very first year of competition. In 2007, the community-owned craft from Madison, Indiana, finished an overall first or second at five of the six races on the American Boat Racing Association tour and placed runner-up at season's end in National High Points. At all six races, the Oh Boy! Oberto/Miss Madison never failed to win at least one competitive heat.
"The difference with our team is our people," Steve insists. "From the team's management, led by Bob Hughes and Charlie Grooms, to the people on the deck, headed by Mike Hanson, we're blessed with talent.
"Without a doubt, Mike Hanson is the best in the business. We have a driver/crew relationship that rivals the Hendricks 48 and 24 cars in NASCAR. Mike has taken raw talent and experienced crew members and together they've created a synergy and methodology that no other team can match.
"Couple that with our new state-of-the-art hull, new propellers, multiple gear ratios, carbon fiber parts and pieces, and we've got the boat to beat."
In 2007, Oh Boy! Oberto (U-6) entered 24 heats, finished them all, placed first nine times, second ten times, third twice, fourth twice, and seventh once.
The first four races of the 2007 season belonged to the Seattle-based Miss E-Lam Plus (U-16), driven by Dave Villwock. Victory was theirs at Evansville, Madison, Detroit, and the Tri-Cities. The E-Lam team definitely had its act together. It fell to Oh Boy! Oberto to snap the E-Lam's win streak.
After having finished second to the U-16 in three straight races, the U-6 won the Chevrolet Cup at Seattle and the Bill Muncey Cup at San Diego. In both races, driver Steve David made a perfect start in the winner-take-all Final Heat.
The finale at San Diego was a classic. During the warm-up for the Final Heat, Oh Boy! Oberto grabbed the inside lane away from the Formulaboats.com (U-5) on the backstretch prior to the start by establishing a legal overlap of seven boat lengths and forcing U-5 into lane-two.
Oberto and Formula exited the first turn together and see-sawed for the lead for three and a quarter laps and, at one point, actually bumped into each other. In the first turn of lap-four, Formula hit a roller and "hopped", while Oberto moved to a half-roostertail length lead. And that's how they finished.
Steve David led at the end of laps two, four, and five; Jeff Bernard led at the end of laps one and three. Oberto posted lap speeds of 152, 149, 150, 152, and 152 for an average of 151.445; Formula did laps of 153, 148, 151, 151, and 145 for an average of 149.724.
Oberto driver David increased his victory total in the Unlimited Class to seven at the Bill Muncey Cup--his fourth with the Oberto team. This was the first time that a U-6 pilot had scored back-to-back race victories since Jim McCormick in 1971.
"It can only get better," Steve exulted after the San Diego win.
The Oh Boy! Oberto crew has spent the winter fine-tuning their program--instead of building a new boat from scratch as they did last winter. They have no intention of resting on their laurels.
As David points out, "There are other teams stepping up their commitments and the competition will be deeper than ever in the sport's history. We're ready and we look forward to continuing our win streak into 2008."
U-6 Team Victories
(1) 1965 - Guntersville, AL (Dixie Cup); driver-Buddy Byers
(2) 1971 - Madison, IN (APBA Gold Cup); driver-Jim McCormick
(3) 1971 - Tri-Cities, WA (Atomic Cup); driver-Jim McCormick
(4) 1983 - Lake Ozark, MO (Missouri Governor's Cup); driver-Ron Snyder
(5) 1993 - San Diego, CA (Star Mart Cup); driver-Mike Hanson
(6) 2001 - Madison, IN (Indiana Governor's Cup); driver-Steve David
(7) 2005 – Evansville, IN (Thunder On The Ohio); driver-Steve David
(8) 2007 – Seattle, WA (Chevrolet Cup); driver-Steve David
(9) 2007 – San Diego, CA (Bill Muncey Cup); driver-Steve David
Steve David Victories
(1) 1993 - Lewisville, TX (Texas Hydrofest) with Miss T-Plus
(2) 1993 - Honolulu, HI (Outrigger Hydrofest) with Miss T-Plus
(3) 1995 - Kansas City, MO (Hydrofair '95) with T-Plus Engine Treatment
(4) 2001 - Madison, IN (Indiana Governor's Cup) with Oh Boy! Oberto
(5) 2005 – Evansville, IN (Thunder On The Ohio) with Oh Boy! Oberto
(6) 2007 – Seattle, WA (Chevrolet Cup) with Oh Boy! Oberto
(7) 2007 – San Diego, CA (Bill Muncey Cup) with Oh Boy! Oberto