1947 Hiram S. Eggers Trophy
Rothenbusch Wins
By Wallace Blair, Courier-Journal Correspondent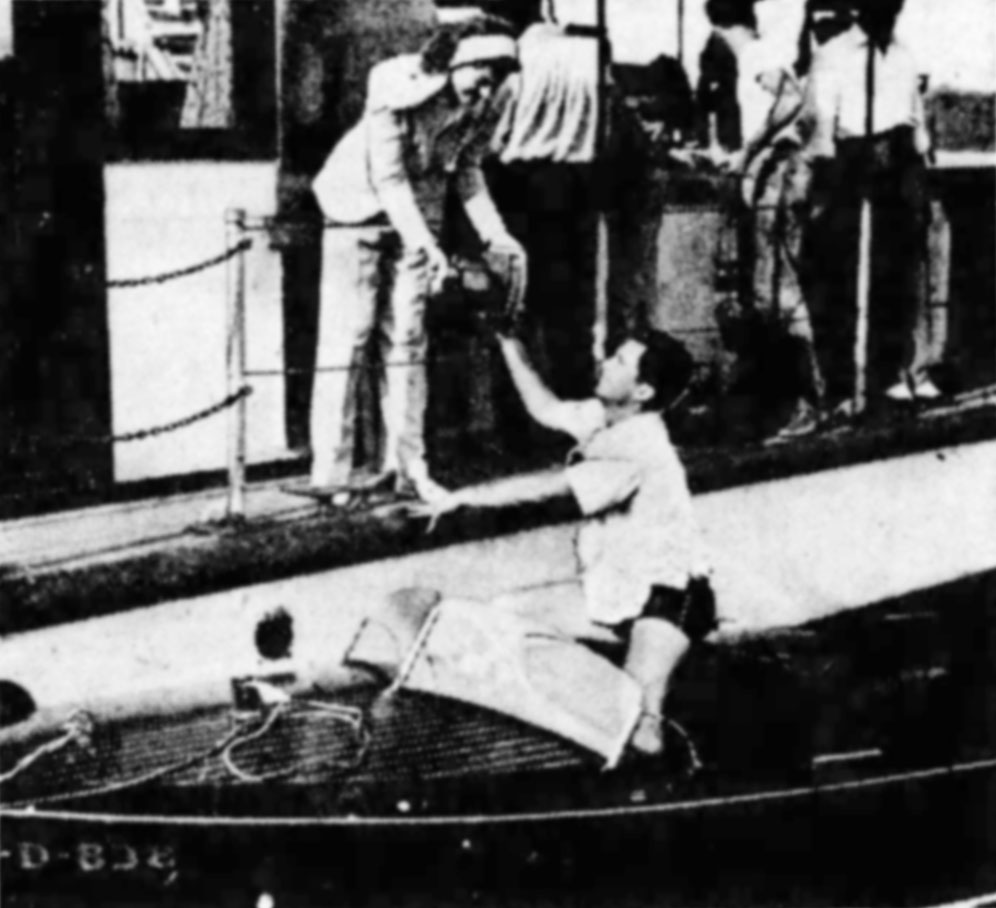 Phil Rothenbusch, an iron-nerved little driver from Cincinnati, piloted his speedy hydroplane Wild Goose to the I-225 division championship Sunday afternoon in the Falls Cities Motor Boat Racing Association's first annual regatta at the Clark County Casting and Conservation Club on the Ohio River.
A rough river hold speeds down and almost tore the boats apart. Al Brinkman of Grand Island, New York, who captured 10 trophies in 1946 with his speedy craft Seabiscuit, appeared on his way to another championship when the rough water punched a hole in the hull of his boat in the first heat. A quick patch-up job enabled Brinkman to come back for the second heat, which he lost to Rothenbusch after his craft began to take water. Brinkman won the first five-mile heat in 6:03.1 and Rothenbusch won the second in 6:20.3. With Brinkman unable to put Seabiscuit in the last heat, Bob Ballinger of Cincinnati drove his boat Ballyhoo to first place in third 6:23.2.
Two Seconds
Rothenbusch had two seconds, missing first in the opening heat by only .5 of a second.
Noble Lanier of Bowling Green, Ky., driving his hydroplane, Frantic, in the second heat sank his boat near the downstream buoy and the Coast Guard helped him ashore. Immediately after the races, William Sharp of Newport, Ky., an ex-Navy diver, began diving for his boat, but by late last night he had not found it. The boat belonged to Gail Winters of Detroit, Mich.
Proceeds from the show will go towards aiding the wildlife program in Indiana and for the promotion of speedboat racing on the Ohio River.
Results:

Division I-225—First heat (5 miles) won by Al Brinkman. Grand Island, N. Y. Time—6:03.1. Second heat won by Phil Rothenbusch. Cincinnati. Time— 6:20.3. Third heat won by Bob Ballinger, Cincinnati. Time—6:23.2.

Division II-225—All three heats won by Harold Lynch, Terre Haute, Ind. Times—6:46.5: 6:45.2; 6:37.

Class "B" Outboards—Won by Robert Guenther, Louisville. Time—9:04.5.

Class "C" Outboards—Won by Paul Jones, Louisville. Time—7:54.0.

Service Runabout Class—Won by Buddy Weir, Louisville.

Free-for-All Hydroplane Class—Won by George Davis, Louisville. Time— 6:52.4.

Division 135—All three heats won bv Merlyn Culver, Dayton. Ohio.


(Reprinted from the Louisville Courier-Journal, June 23, 1947)