2016 Albert Lee Appliance Seafair Cup
Rookie Andrew Tate Wins Albert Lee Appliance Seafair Cup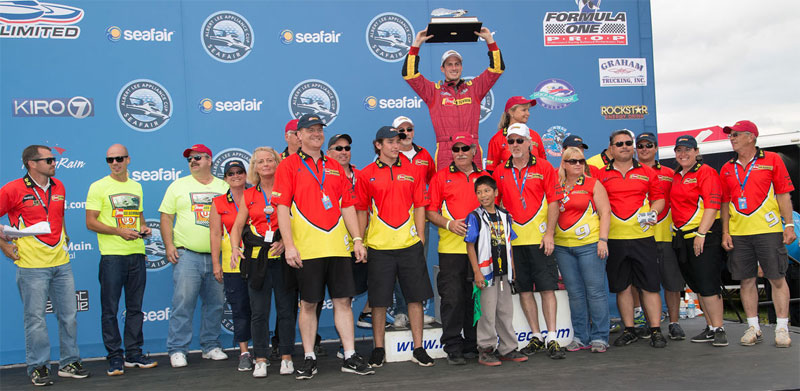 SEATTLE–Rookie unlimited hydroplane driver and Michigan native Andrew Tate drove U-9 Sound Propeller Presents Les Schwab Tires to victory in the Albert Lee Appliance Seafair Cup on Lake Washington. Tate averaged 133.224 mph in the winner-take-all final heat. Tate, on the inside, held off a hard-charging Jimmy Shane in U-1 Miss HomeStreet in one of the most thrilling duels in Seafair history.
Shane nearly caught Tate in the second turn of the fourth lap, but Tate sprinted down the front straightaway and kept Shane on his hip through the fifth and final lap. Shane averaged 131.416 mph. J. Michael Kelly physically ran third, but was hit with a one lap penalty for a lane violation. The infraction dropped him to fifth place. Third went to Brian Perkins at the wheel of U-21 Albert Lee Appliance. He averaged 125.731 mph. Jeff Bernard drove U-7 Graham Trucking II to fourth place with an average speed of 119.370. Kelly's average speed for fifth place was 108.914. Jimmy King, driver of U-3 Miss DiJulio, failed to finish the final, as did Jean Theoret aboard U-16 Oh Boy! Oberto.
Tate is the first rookie to win the Seafair race since Jim Ranger turned the trick with My Gypsy in 1966. Tate, whose father, Mark, drove unlimited hydroplanes, said he called his father after the race to tell him about the victory. "He was really happy," Tate said.
The Les Schwab Tires boat was extensively damaged during the Columbia Cup race in Tri-Cities, Washington, a week ago. A broken propeller caused damage to the boat's bottom. The crew worked all week to repair the hull, making the Seafair victory especially sweet.
Preliminary heat winners on Sunday included Shane in heats 2A and 3B, Kelly in 2B, Perkins in 3A.
H1 UNLIMITED NOTES:

–Late on Saturday, Corey Peabody, of Tacoma, Washington, completed his 10 qualification laps at speed above 130 mph aboard Graham Trucking II. Peabody is a crewmember on the Graham Trucking team and has extensive racing experience in outboard and inboard classes. He is optimistic he will have an opportunity to drive an unlimited hydroplane in competition before the 2016 season is over. "An unlimited is like any fast boat in a straight line, but is really different when it hooks up in a turn," he observed.

–The next unlimited hydroplane race is the UAW-GM Spirit of Detroit Hydrofest presents the APBA Gold Cup in Detroit, August 26-27-28.

–Andrew Tate's hometown is Walled Lake, Michigan. He is a fourth generation racer from his family. Mark, Andrew's Dad, won four Unlimited Hydroplane National Championships (1991, 1994, 1995, 1997) and two APBA Gold Cup championships (1991, 1994). Andrew's Mom Sandy also raced APBA inboard hydroplanes and his grandfather Joe was an APBA inboard champion.

August 7th, 2016
[H1 Unlimited]