1960 International Boundary
East And West Coast Unlimiteds Coming
St Clair Race Has Nine-Boat Fleet
By Ed Senyczko, (Times Herald Sports Editor)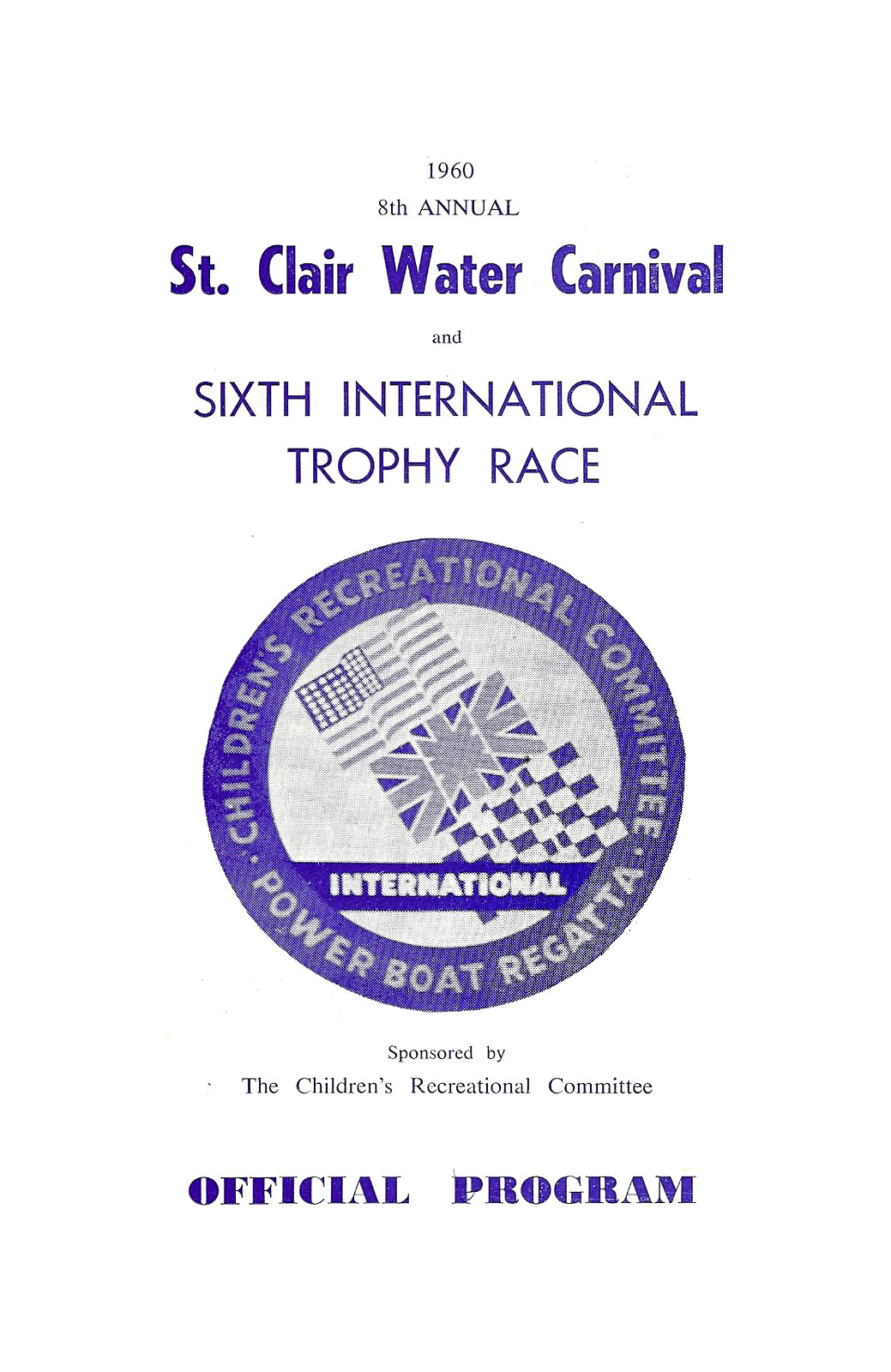 ST. CLAIR—Contrary to prevailing rumors, the sixth annual International Trophy race will be held here July 24 on the St. Clair river course and will feature a nine-boat fleet, according to Thad Banning, race committee chairman.
"We get these rumors every year when we have our race,'' said Banning, "this year we'll have our largest entry. Nine boats are coming."
*********
Chuck Thompson, who won two of the previous five unlimited races is the local favorite since he is a St. Clair native. He'll defend the Lions Club trophy won last year in Miss Detroit. He also won in 1957 in Short Circuit.
"This year's race isn't sanctioned by the American Power Boat Association as far as picking up points for national honors, but it will earn points toward a Harmsworth berth, and right now that is most important with the boat owners and drivers. They want to race against Canada's Miss Supertest III.
Banning said the other boats entered in the St. Clair race are Jack Shafer's Such Crust III of Detroit, Gale V and VI owned by Detroiters Joe and Lee Schoenith, Miss Buffalo of Buffalo, N.Y., Thunderbolt, owned by George Zigas of Detroit. "We also have a boat from both the west and east coasts." said Banning.
KOL-roy, Bob Gilliam's boat from Seattle, Wash, is entered along with two Wilmington, Del., boats Nitrogen and Nitrogen Too, both owned by Sam DuPont.
Schafer's Such Crust III must run a qualifying lap over the three mile course before being eligible to race. "Such Crust will probably try to make its qualifying 95 mph lap Sunday morning," Banning stated.
If all nine boats start, the race will be divided into five heats. Elimination heat 1A will start at 1 p.m. The final heat is slated for 3:45 p.m. .
Banning revealed there was a possibility that Sarnia's Miss Supertest III, defending Harmsworth champion, may race. "Col. J. Gordon Thompson told us a lot depended on how his boat handled in trials before our race," Banning said.
*************
The most urgent problem facing co-chairmen Banning and Ed Shafran and their race committee is the need for a clock for the race. "The clock we've used in other races is now permanently installed at the Gar Wood stand on the Detroit river. We're trying to locate another. We'll either rent the one used in Buffalo or make some changes in our old one," Banning said.
Such Crust III won the first International race in 1955, Gale VI won in 1956 and Miss Supertest II won in 1957.
The five heats will be 15-mile events over a three-mile course with the start and finish line on St. Clair river off Waterworks Park.
— The Times Herald, July 17,1960