1965 San Diego Cup
Musson Has a Final Fling
With Bardahl While Winning the San Diego Cup in Record Style
Ron Musson Aboard Miss Bardahl
Miss Bardahl (3), cockpit
San Diego pits, 1965
Fans and participants alike welcomed the relocation of the pits at Mission Bay this year. In 1964, the pits were nearly a mile away from the course preventing fans from watching the crews in action on shore and causing massive traffic jams at the gates.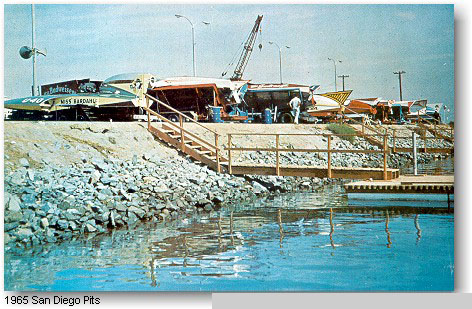 The pits the morning after the race
Ron Musson — eyeing the 1966 unlimited hydroplane season — must be asking himself, "What do you do for an encore?"
For after his performance in 1965 behind the wheel of Miss Bardahl (a boat, incidentally, he will not be driving next year) Musson faces a problem of his own creation — how to out-do himself. It's an act that's hard to follow.
In 1965, Musson, with a skill that ought to be patented, guided the "Green Monster" to its third straight American Power Boat Association national championship, won the driver's high point crown for a second year running, and cluttered up Ole Bardahl's crowded trophy shelf with four more unlimited cups.
The San Diego Cup was the final race on the '65 schedule and the last of four won this year by the Seattle standard bearer. As there were only eight regattas held this season, the Musson-Bardahl team ended up with a .500 batting average.
The question at San Diego so keenly posed by Eileen Crimmin in the report preceding this, was, "Would speed or durability determine the winner?" The answer, so keenly solved by Musson and Bardahl, was, "Both!"
The Green Monster, in winning all three of her heats, displayed a kind of durability that Samson might have envied. And Musson, testing crew chief Leo Vanden Berg's brilliant mechanical tinkering, left a lasting proof of speed by setting a new three-mile lap record at 117.87 mph, and a new five-mile lap, 15-mile heat record of 116.079 mph.
The October 3rd event over San Diego's lush Mission Bay drew a starting field of 16 entries, the largest thunderboat turnout of the year. Adding to the novelty of an unusually large entry list was the appearance of three California representatives including Bob Fendler's Miss San Diego, Ken Murphy's Berryessa Belle, and Bill Schuyler's $ Bill. The latter had a special prize to point for, the All-California trophy for the highest placed home-state boat on the final standings. (An honor which was bestowed upon Berryessa Belle, which finished in a tie for sixth place with Budweiser and Smirnoff).
Following qualifications on Oct. 1, topped by U.S. 5's 119.469 and on Oct. 2 by Notre Dame's 115.879, pairings in Heat 1-A brought Tahoe Miss, Savair's Miss, Mariner Too ('64 winner of the San Diego Cup) and Such Crust out on the course for the opening battle. A slow performance of only 95.84 mph brought victory for Fred Alter in Such Crust as Warner Gardner disqualified the Mariner and Chuck Thompson failed to finish in Tahoe Miss.
Heat 1-B fielded-and saw in finishing order — Rex Manchester driving Notre Dame (110.882 mph), Miss Budweiser, $ Bill and Tri-City Sun.

Miss Madison (2), 1965 San Diego
Buddy Byers proved the leader in Heat 1-C by driving Miss Madison in first ahead of Smirnoff, Miss Exide and Miss San Diego. Madison's winning time was 107.441.
Miss Bardahl finally saw action in the final first round heat and gave an early indication of romping to overall victory by leading Berryessa Belle across the wire at a stimulating timing of 116.079. Third was Savair's Probe. Bill Muncey, piloting Miss U.S. 5, was plagued with mechanical problems and went down as a DNS.
The second round robin pitted Notre Dame, Miss U.S. 5, Berryessa Belle and Savair's Probe. Again Muncey found a departing crew's attention in question and failed to finish, though this time at least starting the heat. Notre Dame coasted to an easy win at 107-plus trailed by Berryessa Belle and Savair's Probe.

Tahoe Miss (3), 1965 San Diego fire
Tahoe Miss (3), 1965 San Diego after fire
Heat 2-B brought the fans to their feet as Tahoe Miss suddenly burst into flames shortly after the start. Chuck Thompson jumped free as the Tahoe Miss fire created an enormous billow of black smoke pierced by giant red and yellow flames. The disturbance brought about a long delay and a permanent beaching of the boat for the day. After a restart, Bill Brow added 400 points to Miss Exide's score, leading Budweiser and Savair's Mist in that order.
Miss Bardahl flew to her second heat triumph in 2-C, clocking 115.335 mph followed by Miss Smirnoff, $ Bill and Tri City.
In 2-D, Buddy Byers once more outclassed its competition by leading Such Crust and Miss San Diego across the finish line at 98.684 mph. Mariner Too went down as a DNF.
The Final Heat matched Bardahl, Miss Exide, Madison, Such Crust and Notre Dame and ended in that order with the Dame failing to finish. Musson continued his speed assault, taking a timing of 113.780 mph.
Pointwise and speedwise, Miss Bardahl was the clear-out champion of the meet, accumulating 1200 points against runner-up Miss Madison's 1025. Third overall on the final standings stood Exide at 925, followed by Such Crust at 869 and Notre Dame with 800.
For Ron Musson, the San Diego Cup was his farewell performance in the cockpit of the present Miss Bardahl.
(Reprinted from Boating News, December 1965, p.48)